I've been reading the confessions and press releases of all the riders involved in the Lance USADA investigation and I have thought about it for awhile and have to call bullshit.
Here is an article written yesterday, on October 10th, the day USADA released the information, about how each rider got into the culture and their regret and "cold turkey" quitting of using drugs.
It all just doesn't fly. Why would each and everyone of the riders come to the same conclusions on their own and quit using drugs, even though each and every one of them had aspirations and dreams of continuing to race and compete on the highest level.
I think that it would be possible for, maybe, one of these guys to quit doping. But for all of them to have the same story, with a different spin on it, just seems beyond belief. The whole thing seems much too orchestrated. Actually, it is completely unbelievable.
Let's take a look at Levi. (Here'a a wiki list of all his results.) Since 2007, the last date he has admitted to taking drugs, he rode 4 out of the next 5 years for the Bruyneel program. During this time he won the Tour of California a couple times, The Tour of Utah a couple time, The Tour of Switzerland, The Pro Challenge in Colorado, finished 2nd in the Tour of Spain behind Contador, and was 3rd in the Olympics. We're to believe that Levi is such a naturally talented athlete that he can compete at this level, drug free, when he couldn't attain those same results taking drugs. I think not. Here's a quote by Levi from the Wall Street Journal piece he wrote – I am sorry that I was forced to make the decisions I made. I admit that I didn't let doping deter me from my dream. I admit that I used banned substances. So now Levi has been "deterred" from the sport of cycling for 6 months during the winter. For his 2nd positive doping violation. Perfect.
It's all bullshit. Why can these guys just admit it? Why can't they just say, yeah, we took drugs and leave it at that? You know why? Because they still want race. They don't think that taking drugs for 2, or 4, or 10 years is enough to disqualify them from competing in the sport. They want the get-out-of-jail free card. They want to race, mentor or coach or whatever in the sport.
Here's a list of doping positives in cycling since day 1. I think there are somewhere between 50-100 guys that have turned up positive since 2006. There aren't that many professional cyclists. That is a very high percentage. I guess we're led to believe that George, Michael, Dave, Christian, Tom, Levi and the rest are so naturally talented that they don't have to use drugs to compete against these "less moral" guys.
All these guys say they are advocating racing clean. By their accounts, they have had 6 years to come clean. Many of them have found the sanctuary of Garmin to do just that. But, in reality, what have they done to really do this? What have they given up, other than drugs, to make the sport drug free? If what they say has any truth, then what they did is compete in the sport just like the rest of us. Wow, huge sacrifice there. By those standards, I guess I've been sacrificing my whole life then.
What these guys needed to do, is when they pried themselves from under the needle of Lance and Bruyneel, they needed to raise their hands and say, "Hey, here is how it is. I used drugs. I need to serve a 2 year timeout and I would like to race again after that." They needed to do this without a gun to their heads. After the fact, it seems disingenuous and contrived. I have to applaud the end result, the lies and reasons stink to high heaven. Here's a piece of the Slipstream statement – They have made another brave choice, to speak honestly and openly with the appropriate authorities, to confront their own pasts and cycling's past and to accept the consequences, all in a continued effort to help the sport evolve. Is that what they think really happened? The spin is incredible.
I say sorry. You guys are all rich. Very rich. Very rich compared to Americans and beyond extremely rich compared to the rest of the world. You get to walk away with all the money that you stole from friends of mine. You get to remember the life experiences that you experienced that others should have as their life experiences. You can't give that back.
Now, all of a sudden, or maybe I should say, for some explained reason, 6 years ago, most of you decided to be moral. If you all are so moral, then maybe you should use those very morals and stop racing. You guys had your chances. You seemed to make the most of it. You have all the spoils. Just fade away and do something else. It seems like the right thing to do.
PS. I read that Lance was thinking about putting together a LiveStrong race series for endurance athletes. I would have no qualms about you getting back together with Lance and doing those. And I'm sure you could all have your own Gran Fondos, people forgive and forget so very easily.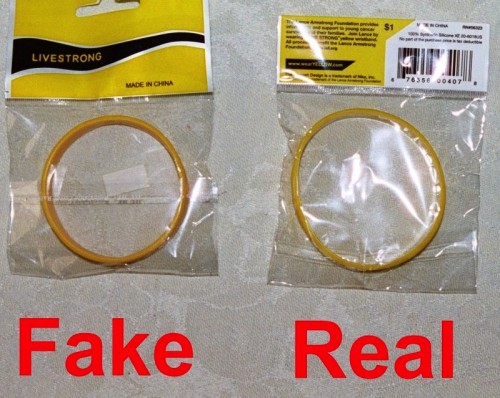 It's pretty hard to tell the difference in the sport of cycling today. Before and even after the "confessions".