I've been reading all the articles on this "drug scandal", from the riders perspective and others. And the reoccurring statement that I keep seeing is that the sport is so much cleaner now and that was a different era.
Bradley Wiggins saying Lance's era was 10 or 15 years ago? I will state once more, Lance bumped Bradley off the Tour de France podium, to 4th, in 2009. I don't even want to go back and link all the articles, from tons of different sources, riders, the UCI, the Pro Teams, but somehow everyone is on the same page and has this theme that the sport is in a different, cleaner, era now. Why?
I have no idea what they are using for facts to make that statement and why they are assuming this is anything more than positive thinking. Did you see the list of guys in this article that condenses the Gazzetta dello Sport report on the Padua investigation in Italy? Here are a few – Yaroslav Popovych, Franco Pellizotti, Michele Scarponi, Denis Menchov, Alexandre Kolobnev, Vladimir Gusev, Vladimir Karpets, Mikhail Ignatiev, Evgeni Petrov and Alberto Ongarato. Plus, the Italy police are investigating Liquigas, Lampre, Colnago, Geox, Androni, Katusha, Quick Step, Cnf-Inox, Farnese Vini, Acqua&Sapone, Astana, RadioShack, Vacansoleil, Isd, Csf, Lpr, Diquigiovanni, Tinkoff, Rabobank, Gerolsteiner and Milram. Plus, I could make another list, at least this long, of people's names coming up in testimony. It is incredible.
That's a lot of guys and a lot of teams. Many of the teams are defunct now, but many are current. But do you think it is close to all of them? Looking at that list, what percent do you think it is of the current riders still taking drugs in the profession ranks. Think it's 5 percent? 10 ? Those are pretty big percentages. I'd say it is much less if I had to guess. Either way, whatever the percentage, the sport is still definitely in trouble and still really polluted.
Tom Bonnen from Cyclingnews.com – "We must just keep doing what we do now, everything is well with us," he said. "The only thing we can do is perhaps imagine that they follow us 24 hours a day, so the world can see what is happening in racing and so we recover our credibility."

And here's another Tom Boonen quote, just for fun. And it's… USADA is also exaggerating. They're also pretending like they're the holiest business in the entire world right now, and they're also full of crap."

Everything is well with us (the sport of bicycle racing)? And, USADA is full of crap? I'd like to see the facts to back up those statements.
And here's a beauty about Lance from 5 time Tour de France winner Michguel Indurain, from Velonews.com – "Even now I believe in his innocence. He has always respected all the regulations… He has won all the cases he's had," Indurain told Radio Marca." Then he goes on to say, Armstrong "has always been a fighter. What surprises me is that he doesn't keep fighting… I think he will come back and appeal and try to show that he played fair for all those years." Wish I could bet him on that.
And what about the guys working with the riders. How about Allen Lim, Mr. Skratch Labs. I don't know him personally. As far as I know I've never met the guy. He's got a PhD. in sport physiologist, it seems. In this article, it states that Floyd said Dr. Lim helped him with blood transfusions. As far as I can tell, other than Lance, no one else much is calling Floyd a liar nowadays, except Allen Lim.
It goes on to say that – "While I became aware of Floyd's attempt to dope himself and Levi [Leipheimer] in 2005, my actions were neither complicit nor complacent and I made it clear that this wasn't right, encouraging them as much as I could at the time to ride clean," Lim wrote.
I can't really agree with that statement much, but he said it, I didn't. He was employed to work personally for Lance Armstrong for 2009 and 10. He goes on to say the reason that Floyd made this up is – "I believe that Floyd made the accusations he did about me in 2010 because he knew that I knew what he had done in '05. I also figured, but don't know, that he was mad at me for working for Lance and that he resented my attempts to thwart his doping," Lim wrote.
Whatever. I needed to include this in the "I Have to Call Bullshit" post from last week. It makes no sense. And here is Dr. Lim, personally training Lance Armstrong. He states that "The PowerTap was a major part of my doctoral work…." And he can't tell that Lance is taking drugs? After he has been doing work with Floyd and Levi who he knows, for certain, that were taking drugs. He has all the numbers. And he is Mr. Squeaky clean? Bullshit.
I'm sorry Dr. Lim, but you came up with your new gig a little late. Now you have a legitimate niche in the sport, one that is probably good for the athletes. What can't you just fess up like the others?
Taylor Phinney, Tim Johnson, Christian Vande Velde, and lots of others, train with him. I'd have to advise them that they probably shouldn't associate with him anymore. Much like Greg LeMond suggested to Lance about Dr. Michele Farrari a "generation" ago in the sport. It makes the sport look bad.
From the original Velonews article, Mr. Lim is quoted – "I do believe that the sport has done an incredible job at cleaning itself up over the last five or six years, primarily due to the hard work and risk taken by the riders who are now coming out. There's an entire generation of cyclists who have never been exposed to what the previous generation have had to see or deal with. Given what has been revealed in the last few months, that fact is pretty incredible and gives me tremendous hope and pride."
Pride? He takes pride in what? I'm also wondering what Dr. Lim thinks a generation of cycling is? It must be less than 5 years, since everyone simultaneously came clean by 2007. Our new young riders haven't been exposed to the drug issue? Here's a guy that has been paid for years to train Floyd and Lance and bases this training on wattage. I don't even know why I wrote this after reading what he said. It all must be true.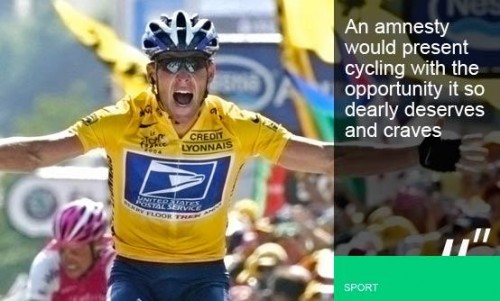 Why not? There isn't anyone left to confess it's so clean.