Last year I thought that since I'm getting older, I needed to rest more, so I took a lot more days completely off. I've never been much of the type to not ride on rest days, but I thought that I'd try something different to experiment. I didn't notice that I was coming back fresher, with extra energy to train harder to get a higher level of fitness after resting.
This year I've been doing the exact opposite. I've had two days completely off the bike since February. And both of those days were long travel days where I couldn't ride. I also took two days off in February, so that is 4 days off since I started training this year. I only rode 18 hours in January and have nearly 300 hours for the year, so I've been riding a lot with not much rest.
Like I said above, I've never been much into taking days completely off the bike. When I used to fly every weekend, it would always work out that I would miss a day every once in a while. But I only fly once every couple months now, so I need to try to figure out when I shouldn't ride. I don't like to rest because of the way I feel during the rest day. I seem to run out of energy half way through the day and feel pretty out of sorts the whole day.
Today is the day I think I'm picking for May. That leaves a lot of riding the rest of the month. But, even writing that, I'm thinking that isn't really going to happen. I really should, because yesterday my legs felt pretty beat and I'm pretty sure I didn't really recover from 4 days of racing in Joe Martin last weekend. Even so, I'd bet it is a 50/50 chance I ride some. I could just do a bike path spin.
I decided to race the Velotek Gran Prix this weekend. It is a local stage race with a hillclimb, criterium, then longish road race. There are only 30 guys signed up for the Pro 1/2 race, so it is going to be pretty hard. There won't be much sitting in, which is fine by me. I was thinking about doing a MTB race 2 hours west of Topeka at Lake Wilson. I've wanted to do the race for a few years now, and had an open weekend. I even went to the trouble of putting new tires on my 29'r. But the weather isn't going to be conducive for MTB racing. It is supposed to be 95 degrees there Sunday. I've already tried racing off-road this year over 90 degrees and it doesn't work without being somewhat used to it. It's a $1000 to win the race, but I'm worried it might send me into a horrible slump and there is a lot of bike racing to do the next couple months that I don't want to miss.
Plus, I'm having a saddle sore issue, so riding MTB isn't the best thing for that at this moment.
I'm already starting to feel a little out of sorts back here in Kansas. It is close to the worst time of the year for me to be here. I'd hoped that they were done burning the fields, but I think not. Plus the allergies are off the charts, so the air isn't that great for endurance athletics.
Anyway, I have a couple things to do today if I don't ride. I flatted a tubeless tire on the gravel yesterday, so have to reseal that, plus I never put on a new tubular after flatting the last stage in Joe Martin, so have to do that too. I'm trying to decide if I should glue on a tire on the rear that wears a little better, not a nice Vittoria CX. Continentals wear way better on the rear, but don't come close to cornering as well. I'll have to look and see whats cwhat's up next week and beyond. I only have one 11 speed race wheel, so I don't really have a choice of what wheels to race. I might check into trying to convert some of my 10 speed freehubs to 11 speed. You don't have to take too much metal off the back to allow the 11 tooth cog to engage.
I guess I have enough to keep me busy today, so maybe the chances of not riding have went up to 60/40.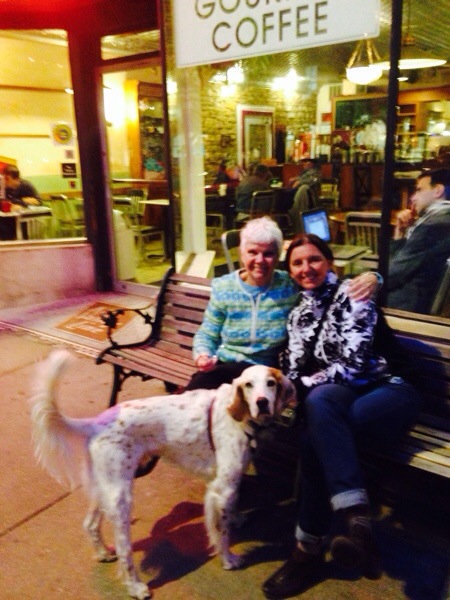 Trudi flew her mom down for a couple days and they've been staying in KC, on The Plaza. I met them, with Bromont, last night in Lawrence for dinner.