I raced in Jefferson City Missouri yesterday at the Missouri State Criterium Championships. Mike Weiss and his Big Shark crew have promoted this event for a long time now. Mike is one of those guys that gets down in the trenches. He does the course setup, races twice and then does the tear down. Pretty cool.
It's a 3 hour drive over to Jefferson City from Topeka. I-70 was at a dead stop East of Kansas City, so we decided to do a U-turn and head South to Highway 50. The detour got us behind schedule, so by the time we got to the race, got our numbers, pumped up our tires, etc, we had to go to the line. I think I had a .8 miles warm up for the first race, the Master's 30+.
The course is less pretty short, a little over a minute and a half lap. It has a 40 mph descent and then the climb back up to the finish line. I really like the course. It is a hard course to get separation because the field is descending so much faster than a break. That being said, it is normally won by a break.
I've been having an issue starting slow in races recently. Actually, since I've raced twice, two weekends in a row, I've felt a lot better the 2nd race than the first. Yesterday was no different. I was totally blocked up the first 20 minutes. Nearly from the gun , Jim VanDeven, Dogfish, attacked. He got a little bit in front and I chased him until we were just a few bike lengths back, but Jim just went again and disappeared up the road. I really didn't mind. Jim is riding super good and I was more into the day for the training, not the results. That being said, I didn't want to get smeared by a bunch of Masters. Towards the end, Bill and I started attacking. I could tell everyone was running out of juice. I put in a couple hard laps and then jumped away with one of Jim's Dogfish team mates. Then all of a sudden Jim was there. He'd lapped us. He was going great. I ended up winning the sprint for 2nd, so that was race one over.
We had 2 plus hours until the Pro 1/2 race. The Master's race was pretty hot, nearly 90 and humid. I didn't feel that bad because of the heat, but didn't feel great. Bill and I just sat in the van and watched the Tour of Utah on my phone. We had to go before the fireworks started on the last climb, so I'll have to try to find it after I finish this.
The Pro 1/2 race was great. There were over 50 guys and the race was pretty animated. I truly enjoyed it. Again, I was a little stale the first 20 minutes, but not nearly as stale as the previous race. Then I started feeling better. Brad Huff, Jelly Belly, was there and I knew that the race was not winnable if it came down to a field sprint. It used to be a good finish for me, but since I had this shoulder surgery, my jump completely sucks.
So, towards the end of the race, we tried to split it up. Bill got off the front for a few laps, but Brad and a couple other guys chased him down. With 3 laps to go I tried my hand at it. It hardly worked. I rode just over a lap before being chased down. I was a little gassed, but not horrible. I had 3 minutes to recover.
I got into pretty good position the last lap, behind Brad. I told him I would lead it out, but that wasn't to be. I completely blew it. I got shuffled back before the final hill and then there is a 90 degree right and immediately a 90 left onto the finish stretch. I was coming up the hill with a big head of steam, but got screwed up when a Mesa rider was peeling off from a leadout. I had to grab a big handful of brake and my destiny was set. I went around the last corner in 6th and that is where I finished. I wanted a do over something seriously. Like I said above, the results weren't important, but I would have loved to see how it played out if I would have gotten around the front of the group.
Anyway, Brad came out of the corner 4 guys back and barely got to the finish line in the lead. Devin Clark had a pretty good gap out of the final turn and Brad just caught him on the line.
After the race, we were all mulling around the finish, talking before the awards. Missouri has a pretty cool State Championship jersey and there was some debate whether Brad could win the jersey because he is a D3 Pro. I don't know what the rule is, but if it was up to me, if you can race the event and you live in the state, then you get the jersey. I'm not sure what they eventually decided.
Race efforts are so much better than anything I could hoped to do training. It was interesting that my average wattage in the Master's race was higher than that of the Pro 1/2 race, even though the average speed was over a mile an hour slower. Strava.
So, I got in nearly 50 miles of good criterium racing. I was surprised how good I felt towards the end of the 2nd race. I was recovering pretty quickly after efforts and most everything was working okay. My ribs were bad, but not horrible. All and all, it was good.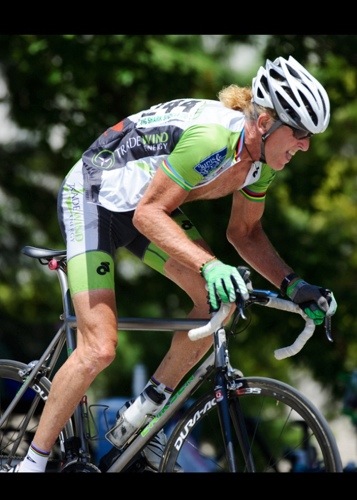 A little hot.