Okay, this is going to be a short one. Last night around 10, I convinced only Bill to drive over to Jefferson City and do the Missouri State Criterium Championships with me today. I'm a little tired from riding 3 1/2 hours yesterday, but need the speed work. The course is around the Missouri State Capitol and has some elevation change. Nothing like the race last weekend in Des Moines, but it is a more technical course with a climb in it. We're gonna race both the Master's race and Pro 1/2 race again, so a little over 2 hours of criterium racing is in store. It's supposed to be near 90 this afternoon.
Yesterday, my team mate, Brian Jensen, had a pretty good ride in the Leadville 100. He finished 12th, which was pretty stellar considering. He self admittedly said that he figured he lost close to 30 minutes to the guys in front of him on the descents. He was nearly an hour behind the Christoph Sauser and only lost 2 1/2 minutes to him on Columbine according to the Strava Challenge. Anyway, not bad for a "flat lander". And how about Sally Bingham winning the women's race. She finished 26th overall, right ahead of my buddy Nick Frey, Mr. Boo Cycles. Scroll down here to check it out.
Chris Horner backed up his talk with a victory yesterday at the Tour of Utah. I guess all he has to do is stay with Tom Danielson and make sure Tom doesn't win and he has the race wrapped up today. Not bad for not racing for 5 months. Tom must be feeling silly doing all those race days of the Giro and the Tour. Good motivation for Chris for The Tour of Spain I'd guess.
Alright, that's about all the time I have. Better pack up the van and go get Bill.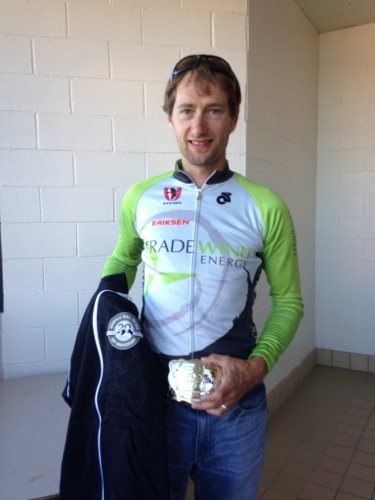 Brian and his Leadville belt buckle.