I feel pretty shitty in general. Add to that riding at 90 degress + at the same humidity and it makes it that much worse. I was definitely out of sorts the last couple days.
It definitely seems to be the case that I don't ride as well in the heat as I used to. I don't know why that is. I always read that age has something to do with it, but I don't know about that. I'm not really sure what your body does to compensate for hot and cold weather. I know it does something because we all get more used to it eventually, but I don't know the exact mechanism that is uses to do this.
I do know that Bromont mirrors my feelings in heat. But, he is covered with fur, so he gets a get-out-of-jail-free card. We took him out to the country to run and he barely did that. When it was all said and done, he had gone less than 3 miles on the Garmin GPS and spent the majority of time in the pond with the cows.
Last night we went out for Cinco de Mayo. It was fun. There were ping pong tables at the The Burger Stand. I hadn't played ping pong in a long time. It wasn't so good for my bad shoulder. Mainly because of the sudden quick movements necessary for the game. I'd already pretty much destroyed it earlier in the day helping Bill get rid of a tree that was blown over in a storm last week. I'm sticking with the do anything I want advise from Dr. Synder last week. I'm not sure he took into consideration using a chainsaw for a few hours, but it wasn't that bad most of the time. Anyway, ping pong was fun. I used to play a bunch back in high school, but not much since. I was pretty rusty, okay, really rusty, but it was fun none the less. I should make it a point to play more often.
It is supposed to rain all afternoon here. We're scheduled to ride at noon. It is going to be super muggy. Hopefully it will hold off for a couple hours, but just a couple hours. Right now, I have a small hang over and feel pretty wasted in general from yesterday.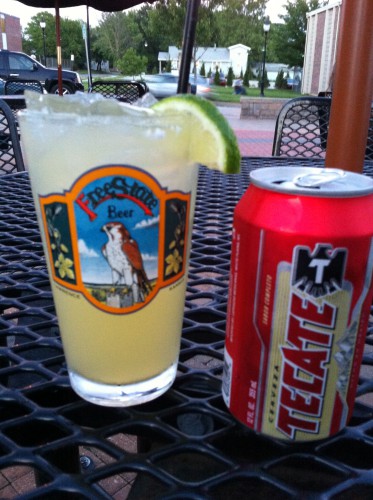 Patron margaritas and $1 Tecate beer were the specials yesterday. I know these don't help in the heat the least bit.