Just finished watching the finish of the 2nd stage of the Giro. Man, that wasn't good. Taylor Phinney fell when Roberto Ferrari made a right hand turn 200 meters from the line and clipped Mark Cavendish's wheel. I think that Taylor's Giro is done, but hopefully not. It looked like his ankle was twisted pretty good from the video. Ferrari is going to be removed from the race I'd think. Maybe not. I'll try to post a link to the video, but there is a Farnese Vini – Selle Italia rider that bunny hops Cavendish when he is on the ground. It is pretty unreal.
Talking about crashing, Speedweek on the East coast is officially over. I vowed never to go there again a few years ago when I crashed 4 times in the first two races. When you run out of cycling gloves because they are all destroyed from falling, I decided to call it a week and just train. Those races are so, so stupid that you'd be an idiot to attend unless someone was forcing you to. They had to stop the race there on Friday night twice because nearly the whole field fell. That isn't unusual there. Every year it happens. Never again.
But, Saturday, something different occurred. According to this article at Velonews, there was a "road rage" instance on Saturday night that left Isaac Howe laying on the ground with a broken collarbone. It is a little sketchy, but it seems this guy, Jonathan Atkins, of Newnan, Georgia, got pissed at Howe for some reason and intentionally knocked him down. Supposedly Atkins was handcuffed by the police sometime during the evening too. Wow.
I'm not sure what to think about that. Of course it is all bad. There is no place in the sport for anything of the sort. It seems to be getting to become more of a contact sport every year. That is what pisses me off about touching people. There should be no, absolutely no leeway enforcing that rule. You touch someone on purpose, you're out of the race. The problem is we see it everyday at the finishes of the big European races, so everyone tries to emulate it.
But crashing someone on purpose is a completely different animal. I couldn't tell you what the suspension should be, but getting the police involved doesn't seem out of line. A broken collarbone is minor compared to what could have happened to many people here. I still don't understand USAC ruling when Keough and Bahati get into it at Dana Point a couple years ago and half the field fell. They acted like it was all part of bike racing and since no one protested, they decided to drop it. It was bullshit. The amount of equipment destroyed was outrageous, not even mentioning the riders hurt. I would have made both of them sit out a few months.
This guy in Speedweek, Atkins, is going to have an issue, I assume. Sounds like there might be charges pressed legally. Seems alright to me. The sport is dangerous enough not to allow intention violence to occur at any level.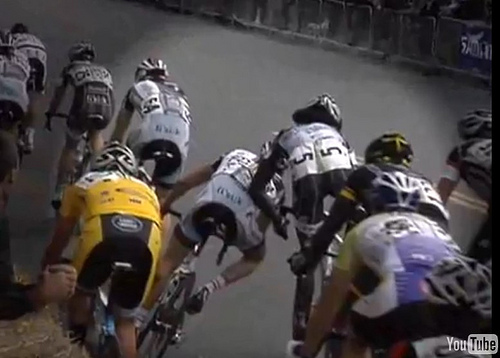 Dana Point Criterium was last night. It was the 2 year anniversary of this stupidness.

Here's the video of the Giro crash. Go in about 3:45 to see the overhead shot. Thanks Ken.