I've been spending most of the daylight hours either on my knees or on a roof, so I haven't had too much time to ride. I actually took two days straight off, which is pretty unusual for me. Yesterday I decided to go out for a ride at dusk. I'm still riding my cross bike with a gravel road tubleless setup. I was surprised how tired I was all day and how great I felt pedaling. I can tell when I'm going okay, mainly by how easily my legs go around. I know that sounds pretty basic. It is.
I was enjoying riding under the crescent moon. The sunsets this time of the year are surreal. Anyway, I was thinking a bunch and was trying to figure out, some, how I got to where I am. And how I'm still enjoying something so much after doing it for so long. I'm not sure that most people figure it out, bicycle racing, but it takes a long time to master. Not master, like win everything, but master like be the best you can and be able to ride up to your potential on a weekly basis. Cycling is a slowly progressive sport. You make micro, incremental improvements. And once you have made those improvements, they stay with you for a long time.
One of the things I enjoy most is when a new guy starts riding. The first couple months he can barely sit on, sometimes getting dropped on the hills, etc. Then towards the end of the season he is holding his own. You'd think that after taking some of the winter off, the guy would go back to square one, but no. It never happens. He got maybe 3 levels better one season and only regresses one level. And it keeps going like this season after season. I ridden with lots of guys that keep getting better decade after decade. It's kind of strange. Once you get to a certain level, you never can regress back down to the bottom. It's like when a retired Pro or Cat. 1 comes back after 10 years off. He starts out at such a high level that it is nearly impossible to tell he took a decade off the bike. It is one of the greatest parts of the sport. You might loose a lot of your physical ability, but all the knowledge and technique sticks with you forever.
I've always enjoyed riding at night. When I was a junior, I used to work at a local shop, Gran Sport, and I wouldn't leave to ride until after 8 pm most nights. Most of the ride was when it was dark. I don't do it much nowadays because I don't think it's so good for training, but it is super fun still. I know that the perception of speed is always exaggerated at night. But, like I said above, I can tell when my legs are going around freely. And they were yesterday.
Well that was just some of my thoughts while riding alone at night. I'd really like to find a race to ride to see if I'm feeling as good as it seems. Then ski some before it all starts all over again. In the meantime, I'm gonna try to finish up with this roofing project the next couple days. This hobby roofing is hard on my hands. And takes up way too much time. Today we're adhering the rubber to the decking. It shouldn't take too long, but in construction, in your mind, it all seems so simple and easy, but when you're actually doing it, it's way more complicated and time consuming than you'd imagined. Exactly opposite of just riding your bike.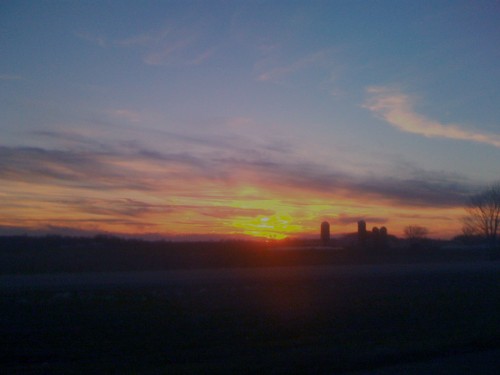 There is no better time to be on your bike than sunset.