I don't think it got over 40 degrees here yesterday. And it was drizzly. This 40 degree weather is when the Austinites pull their down coats out.
I waited until later in the afternoon to go ride. I'm still feeling achy and out of sorts. I don't know if it's allergies or what. I did an hour neighborhood loop and then went over to Zilker Park and rode in the sand. Man, does that take a lot of energy. I watched the Belgium Nationals last Sunday and it was amazing how easy Albert and Co. made the sand look. But, they still had to run. I can't keep my front wheel straight when my hands are on the shifters. I go much faster and stay straighter when I have my hands on the top of the bars by my stem.
I still don't have a ticket to Europe yet. I don't even know where I'm flying from. Austin or Kansas City. Better decide that today.
As you might have noticed above, today is one of those 4 days this year with a lot of 1's. I'm not sure if that is good luck or bad luck or no luck.
I thought I might have a chance to go on a MTB ride today, but that doesn't look promising. It should be a little warmer today than yesterday. Maybe I can get motivated to ride further on the road. It snowed 9 inches in Topeka yesterday, so this ain't so bad.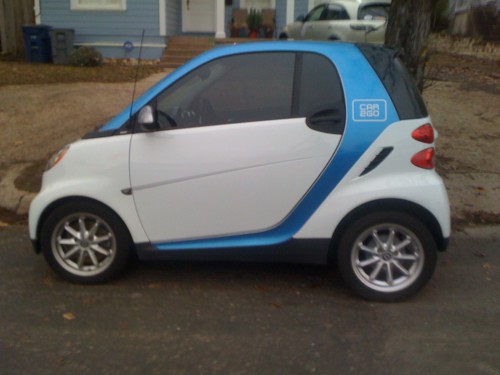 These little Smart Cars are all over Austin. They are rental/borrow cars owed by Car2Go. Kind of a cool concept. I wonder if it's working out?