A update from Iowa. 65 mile road race today in Iowa City. I was pretty mediocre. A little flat from driving I think. 5 laps of a 13 mile rolly course. Hardly any wind.
15 guys got away about half way through. All 3 of my guys made it. I was trying to get feeling better the next hour. I felt a little better, but nothing like the previous two weekends. On the last lap, on the hardest hill, it split apart. I was in a small group of 4 going over the top and Nick (Coil-team mate) came up with Adam Bergman (Texas Roadhouse). Bill was shelled.
Guys started jumping, as it was only 5 miles to the finish. I was pretty marked and not going well enough to overcome that.
Eventually, some guy I don't know rode away. Nick jumped alone. I thought that was the move, but it didn't look like he was closing the gap. I didn't chase a Mercy/Specialized guy when he jumped. Nick and him got together, but ran out a real estate before the finish.
So, Nick was 2nd and I was 6th. Not such a stellar result, but it is bike racing.
Old Capitol Criterium is tomorrow afternoon. It is in downtown Iowa City next to the University and around the Old Capitol It is a super technical course with a pretty good hill on it. I won the race last year. The weather man says a 70% chance or rain. That would make it crazy technical. I'm not sure how I feel about that just this minute.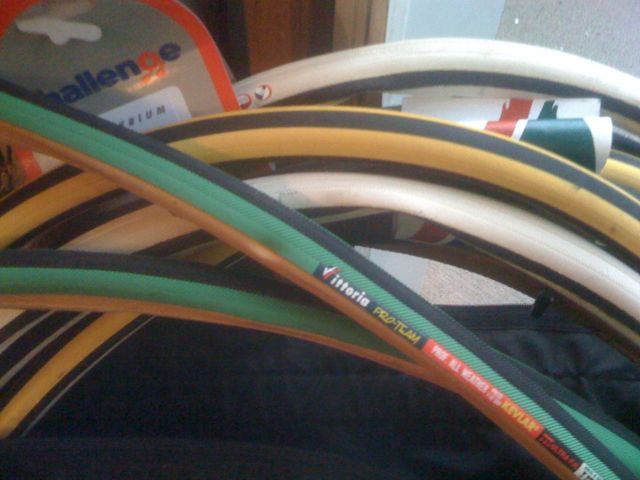 I brought a ton of tubulars along for last weekend. I just glued two new CX's on for tomorrow. I need to try some of the new Challenge Tubulars in the rain, but this isn't the time. I have a couple CG All Weather 24 Pave tires too, which would be perfect, but they would only be good for this one race and I don't feel like peeling them off before Joe Martin.
Sent by iPhone