Phil Liggett is announcing down in Australia and is heading over to New Zealand to announce at the Legends of Cycling gala, so the New Zealand Herald thought they would do an interview with him.  Man, can Phil put his foot in his mouth nowadays.
I've known Phil for a very long time.  He was the promoter of the British Milk race the first year I went there over 30 years ago.  He is a nice guy and pretty knowledgeable about the sport.
But somewhere he took a 90 degree turn and lost his way.  I understand what he thinks his job is and how he feels he needs to place, or align himself, to do that job.  But come on.
I believe he would do better for himself if he'd just stick to announcing and quit injecting personal opinions into the mix.  He has been pretty adamant about his support of Lance over the years.  I guess that is commendable, in some regard, but when you are on the wrong side of the truth, it doesn't go so well publicly.
To the Herald, Phil said, "I built him up. I created him into a great cyclist, and he was, even though he took drugs."
This statement is crazy.  I'm not sure that a race announcer "can create a great cyclist". Whoever wins the Tour de France, who previously had already won the World Road Championships, in my view, has already established his abilities.  I think just about anyone announcing the Tours, those 7 that Lance won, would have to acknowledge that Lance was better than everyone else. I don't think any specific person announcing could really take credit for having "built " Lance up.
It is like Phil is taking credit for making Lance famous or something.  I think that Lance did that pretty good himself.  On and off the bike.
In my opinion, Phil has stuck by Lance, even when the obvious was obvious.  They have a common background and rumors have it that they were in business together.  Phil admitted he'd "MC'd his gigs around the world".
So, he has his loyalty.  But Phil, said this now – "I wanted absolute proof before I spoke against him and, despite what they say, they never got the proof."  They never "got the proof"?  Where has Phil been the past few years?  It is really embarrassing for him.
Anyway, like I said above, I've known Phil a long time.  He was super nice to me early in my cycling life. When MTB racing was taking off, he flew over to Hawaii and announced the World Cup finals. I helped him out a little getting him up to speed on this aspect of the sport.  But then Lance came along and started winning the Tour and then the media jumped on board the road scene.
So, really looking back on it, maybe Lance was the one that built Phil up?  Maybe Phil just got mixed up on what he was trying to say and he meant that?  I hope so.
I just figured it out. I bet it was mixed up in translation. Phil was getting interviewed by a New Zealand newspaper and he is British.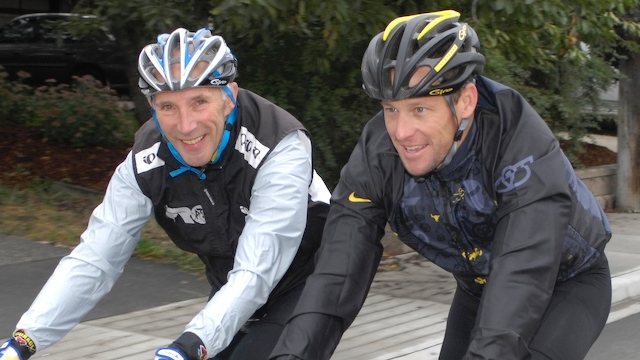 This video is from 2012.  The part about Lance starts around 2 minutes in.  Phil is still sticking with his 2012 views it seems.