I am short of time already this morning, having to high tail it over to Stillwater to race up and down the hill. It is a very hard race and I'm sort of looking forward to it for some reason. I'm just riding okay, not really able to shake the care legs out, for some inexplicable reason, but I'm hoping for better today.
Yesterday I raced in Menomonie. It is a cute town east of Minneapolis about an hour. I got there early and did an hour ride out in the country. It is beautiful there. Big rolling hills and endless farmland. But, I had a splitting headache all morning and it wasn't going away with the easy ride as I was hoping.
I went back to the car and ate a handful of aspirin and then drank some coffee. That didn't really help, so then I drank abunch of water, thinking it was maybe dehydration. Still there.
So I started the race with a bad headache. Luckily for me, bike racing takes a ton of concentration and the headache got put on the back burner as soon as we started.
The race was a little harder than normal. Short course up and down a slight hill. It was okay fast. Something over 27 mph at the end. I felt alright but not stellar.
The last lap I tried to go early and got into the final corner in the lead, but the finish was kind of far away, maybe 250 meters. Guys started passing me, we a couple did about 1/2 way to the line and then the race leader, Laszlo Alberti, got tangled up with another guy and the other rider fell pretty hard. I did a stutter coast, thinking I was going to hit him, and got passed by two more guys, so ended up 4th, just a few inches from 3rd. That was a little depressing, but that is how it goes.
There weren't as many guys racing, maybe 40-50 at the start. And half of those guys got dropped.
Okay, I am late already, the race this morning is at 11:45 and I am 45 minutes away. Today is Summer Solstice, the longest day of the year. Also, Nevada City is today. Busy day all around.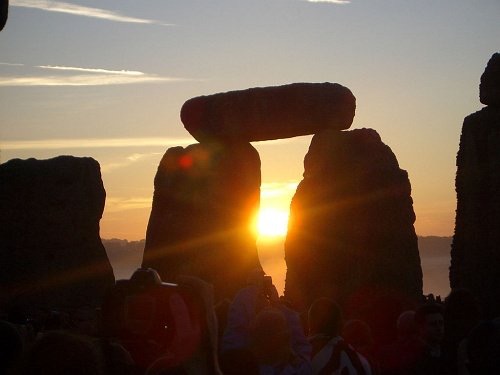 1st day of summer.