I can't say yesterday went very well. It went badly. When you pretty much have to walk your bike out of the course, that would be the appropriate description. I was thinking about it yesterday and I'm pretty sure I've only quit two MTB races in the last 20 years, one I sheared off my fork and the other I double flatted and my 2nd tube had a hole in it. This was not as bad as the first time, but worse than the 2nd.
The day started alright. I rode some in the morning in the drizzle and felt just okay. We drove out to the course and the drizzle burned off and it started heating up. I did a couple laps of the start loop and didn't feel great, but not bad. I rode a little more and have to say I wouldn't throw my chip back in. I knew the start was going to be hectic. I was about 1/2 way back in the bunch. I was pretty nervous before the start, but on the line, I wasn't nervous at all.
They said go and I was just trying to make sure I didn't get caught up in anything. We rode up a short hill and I was thinking to myself I had forgotten how dusty MTB racing is. The first time we got to single-track a log jam. I had to stop maybe only 10 seconds. Then we got going again and about 1/4 mile later, another single-track and a bigger log jam. By the time we got to real course it had strung out. I was in 30th, was a little further back than I'd hoped, but I was fine with it. About 1/2 way out the first rocky single-track, I started feeling my rear tire hit the rim. But, I was going a lot faster than I had previously and thought maybe that I was just worrying. But it wasn't my imagination. I had passed a few guys riding, plus a few more off their bikes screwing with their tires. I kept riding, knowing the next section was uphill, where low pressure would be an advantage. I screwed up on one rocky climb and 5 riders went by. It pretty much was wheel to wheel. Finally we got to a faster, rockier section and I was bottoming out lots.
So, I stopped and put in a bunch of air. I sat there for a second and tried to see where the air was coming out, but couldn't see any latex anywhere. I'd guess I put in close to 40 psi. I'd started the race with high pressure, 30 in the rear, just to make sure I kept air in my tires. Didn't work obviously. I'm not sure how many guys went by, but a lot. I got back into line and the guys I was riding with then were going significantly slower than the guys I had been riding with previously.
Just a mile or so later, still on the first lap, I felt my rear rim again. I couldn't believe it. I rode it as far as I could and then pulled over. This time the air was leaking out my valve stem, so it was my fault. I guess I didn't get all the way closed. It was a little clogged with latex and glitter, so I took some extra attention getting it tight. So, another Co2 cartridge gone. I had three and a tube, so thought I was still good. I rode through the pit and Trudi told me I was in 60th. That was out of 69 starters. But, I could see a bunch of guys ahead of me and still felt okay motivated.
It was getting hot on the climbs, like really hot. Most of the guys I passed the next half lap said something to me about being hot. About half way through the next lap, the tire felt a little low, but I wasn't sure. I stopped to check it, only losing a couple spots, and it was a little less pressure than before, but still over 30 psi. I finished that lap and when I got to the start/finish I got another Co2 from Trudi. I figured it was just a training ride then. I knew I was sunk, being back behind a lot of other guys that were going slow, for various reasons.
About half was through the 3 lap, my tire went instantly flat. I pulled over and put a tube in it. Man, it was hot stopping that time. I put the whole quickfil in the tire, so the pressure was crazy high, but I knew that there was a slim chance of a tube staying inflatted on a trail like this. I rode maybe a mile and it was all over.
I wasn't really that depressed, other than not getting to ride the last two laps, I was pretty done with the whole experience. I started walking. I didn't have to walk that far before I came upon a course guy with a radio. He told me to go up to an intersection and that he'd have a guy with a quad meet me to give me a ride back. I got up there and it was asphalt. So, I decided to just ride. It wasn't going to hurt the wheel and my tire was toast already. It was only 1 1/2 miles back to the start finish. I got back 10 minutes before the guys finished, so at least I got to watch that.
I didn't really get what I was hoping out of the race. First, I wanted to see how I stacked up against these guys. After the start, that wasn't going to really be fair. I think if I didn't have any problems early, when it thinned out later and the riding was more open, I could have compared my lap times to those of the leaders. I was never going to see them during the race. The temperatures didn't thrill me much. I felt really overheated even just riding back on the flat. It's hard going from near freezing temperatures to over 80 and humid and not feel extremely bad, at least for me.
Lots and lots of guys flatted. Maybe not as much as me, but I passed guys riding on carbon wheels to the pit, flat, saw tons of guys on the side of the trail, messing with their tires. The rocks were very sharp and numerous. Plus, the speed you hit the rocks at was pretty fast. I don't have much current knowledge of tires, but I though I had on decent tires, Racing Ralphs with the Snake whatever proof sidewalls. I haven't had much luck with those now, so I think I'll try something different.
I'm not too tweaked today. Doing the stair test, it is hard, but not horrible. I didn't race an hour, so that is probably the reason. I'm going to race the Lago Vista Road Race at 12:45 this afternoon. It is 83 miles and a very hard 5.5 mile lap. It is supposed to be in the 50's and raining at the start. And keep raining and temperatures dropping to the upper 40's by the finish. I really don't feel like going out and riding 4 hours in the rain and cold, but am interested how I'm riding and the best way to figure that out is by racing. Plus, I feel like this trip down here is pretty much a bust so far, other than hanging out with some friends, so I need to try something to salvage it a little.
I think I'm going to start driving back to Topeka after the race is over at 5. It is supposed to ice up in Dallas and the last time I experienced that, I was stuck there for a few days. If I can get up to Oklahoma, or somewhere closer that has salt and sand, then I'll stop. It is suppose to snow a lot in Topeka today, with record low temperatures, -10 is predicted. That is pretty cold for the end of February in Kansas.
Alright, gotta get packed up and moving.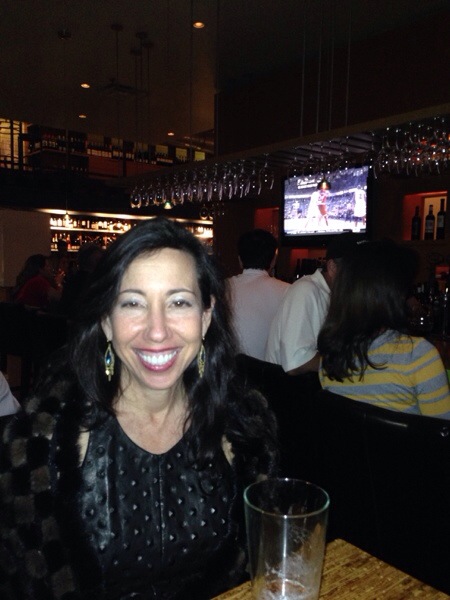 Having dinner out afterwards, with my friend Ann, made the day worthwhile.