Chris Horner did exactly what I wanted him to do. That is to say that he isn't rider #15 in the USADA report. The problem is that he did it so badly that it did nothing but detract from his believability. I think it would behoove Chris to just stay silent until the UCI gives everyone a get-out-of-jail-free card.
In this article at Cyclingnews, Chris says what he should have said originally a couple weeks ago. When asked whether he is the redacted rider #15, he answers, "Nope". Then he proceeds to go and make a mess of the rest of the interview.
He goes and contradicts himself a few times about whether doping and drugs were prevalent when he first went to Europe. He uses the explanation that he was only 25 years old and didn't speak French as the main reason that he didn't go to the dark side. His quote here is beautiful, "But there is not the option as a 25-year-old kid who doesn't speak the language in France to just go do EPO. But really you think of it as you weren't given the option more than you didn't take the option."
He pretty much sticks with the, no one gave him the option 15 years ago when I was "young" and naïve, so that means that no one in the last 15 years presented it again, reasoning.
He talks of his early bad results and says, "I had a difficult time in Europe. It's difficult to say whether the drug problem was there or it wasn't there, and that was the reason. I was 10 pounds overweight; that was one of the reasons."
Difficult to say whether the "drug problem was there or it wasn't there? Chris, obviously, you haven't read enough about it on Cyclingnews, since that is where you get all your doping news, because nearly anyone reading this can attest to the fact that there was a serious drug problem going on in cycling during those years. And all the years after. Maybe he was too busy racing bicycles and missed the last decade + of doping news in cycling?
Maybe just a tad amount of outrage would make it seem more plausible. Just a little bit. I guess we were just trying to stay on topic?
Maybe he is right and it was just a weight issue. I wonder why all these guys listed below, had to use drugs to win races? I think I'll skip lunch.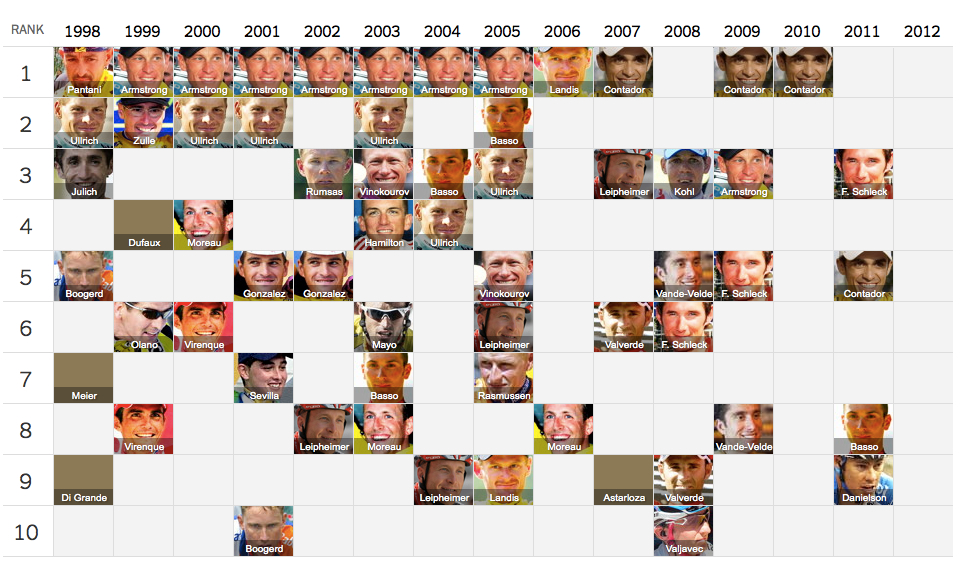 The pictue is of Tour de France top 10 finishers that have either tested positive, admitted to doping or been sanctioned by an official cycling or antidoping agency.