I received an email a little while ago telling of a horrible accident that my friend, Dale Stetina had. Dale is the father of Garmin rider, Peter Stetina, and brother of Wayne Stetina, Shimano guy. Dale crashed while descending a canyon outside of Boulder and is in serious condition at a Boulder hospital. I contacted Wayne and he is flying out tomorrow morning to stay. Anyway, I know a bunch of you that read this are friends and acquaintances of Dale's. I hope only the best for Dale and a speedy recovery. Email below.

Friend of Dale,
I am so sorry to be delivering you this email, but Dale's wife Anne asked me to reach out to his good friends and fellow cyclists. Today as we descended from Ward in Left Hand Canyon, Dale was involved in a serious bicycle accident that was caused by a vehicle pulling onto the road as he descended towards it.
Dale did not hit the car, but hit the pavement, landing face first, suffering significant facial and ocular damage, and loss of responsiveness. EMTs were on the scene rapidly, he received good care. He was flown to Boulder Community Hospital in a Flight for Life helicopter. He is there now in ICU.
The CatScan diagnosis revealed Brain Stem injuries. The neurosurgeon describes the injuries as very serious. Dale is in tough shape. The future of Dale's recovery is not known at this time, the doctors have offered no predictions. His vital signs are stable given the trauma he encountered. We are all hopeful.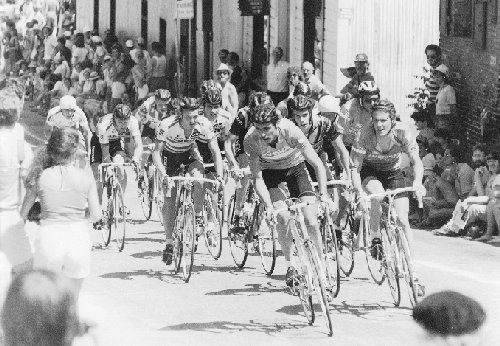 Dale, 2nd for the front, at the Nevada City Criterium. I'm obscured, but my team mate Andy Hampsten is there along with Alexi Grewal, Chris Carmichael and a few others guys I know.