I was having a pretty bad day yesterday. I woke up in a funk, still sleepy and partial destroyed from racing two hot criteriums over the weekend, in subpar form. It took me until noon to get out of the house. I decided that I needed some coffee, I usually only drink tea in the morning. Anyway, I was sitting at the Flying Monkey moping about how screwed up my body is right now, when I look out the window and see this guy hauling down the sidewalk.
It was around 100 degrees out already and pretty muggy. There is this guy in his mid 20's, in a gray t-shirt, wearing a ball cap backwards, in a wheelchair. His tempo was super quick, obviously in a hurry, he has purpose in his rhythm. He didn't have legs.
I immediately did a reality check. I was thinking, "What the fuck am I all depressed about?" Here I am all fatigued from riding a bike race, poorly, in 100 degree heat and look at this guy. The guy seemed way more upbeat than me. Me, who was sitting inside an air conditioned, groovy, coffee shop, moping.
It is so sad when I have to see something like that to snap me out of something that really is trivial, like not feeling good. It is very hard being an athlete and not being overly consumed about body sensations. On a daily, maybe hourly basis. It kind of makes you self centered to a degree. I think athletes have to be self centered in that respect, to make sure that they are doing everything in their power to compete at their highest level, but when it comes down to real life and world issues, one bad weekend/month/summer is sort of irrelevant.
So, that was enough to get me back centered again, at least for the last 1/2 of the day. I went out on the, now, 6 pm group ride and everyone was amped up from racing, or not. It was pretty lively. I ordered a couple live cat traps from Amazon and got them, so I set them to trap some more feral cats for my own catch/spay/release program. It seems to be never ending. I don't plan on getting bit this time though. I never do.
I'm planning to start my heat acclimation training today. Maybe it's not going to be hot enough, hardly triple digits. Okay, I hope I don't have to see someone that is really down and out to appreciate more days from now on, it doesn't seem right.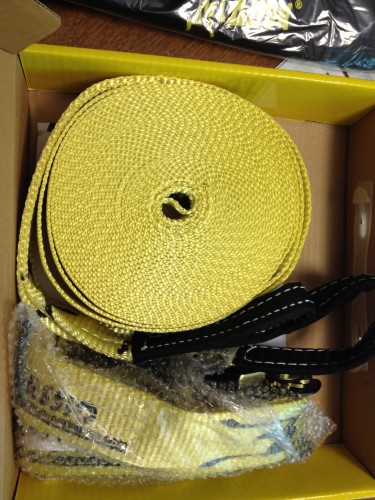 I got this Gibbons Slackline last week. I've only tried it once, up in Cable with the CXC guys. I sucked. I figure if I do this shoulder operation, at least I can try to get some balance back into my system.