Yesterday I was having a pretty great day. Everything wasn't going perfect, but I was trying to make the best of it. I had expected to get my van back on Tuesday, but here it was Thursday and still no van. I called the shop and the guy said they had changed all the parts and were just doing the alignment now.
So I got on my MTB and decided to take a loop of the city. Exploring on my bike was one of the things that got me hooked on cycling intitially. I love riding around towns and see what you miss driving around in a car or what you don't get enough of walking. I especially like riding in alleys. Alleys are a small window into a perspective of people's lives that you don't normally see.
I ran into a super interesting man on the bike path. He was blowing the path free of debris. He had this micro blower on wheels hooked onto an old Schwinn and was riding slowly down the path. It was another one of those situations of people who are working behind the scenes to make everyone's life a little better. I talked to him for a while. He was a retired, 72 year old lab tech, who liked to roller blade and was tired of having stuff on the path, so he decided to do something about it himself. He had done over 6 miles of trail the day before and 6 that day. He wasn't too happy with the parks department. A pretty interesting guy though. I can't believe I've never seen him before.
Then I went down to a coffeeshop and had a cup and a muffin and read 785, the local Topeka magazine about groovy things. Then I started meandering my way over towards the alignment shop. I went by the building I roofed to check a couple things out and headed down the alley behind it. A couple blocks down, there used to stand a really old limestone house that was encircled with scaffolding. A super interesting mason lived there. I talked to him a few times over the years about the right mortar to use on 100 year old brick. The house was raised last year sometime when I was gone. I assume that means he is no longer on this planet. It is now just a lot where the house stood.
I noticed a mulberry tree at the back of the lot, near the alley. I hadn't eaten many mulberries this year and decided to pick a few handfuls. I was picking mulberries and reminiscing about hot summer days when I was a child, when low and behold, a police car comes rolling up.
He stops, unrolls his window and asks me what I'm doing. I tell him that "I'm eating mulberries". He then asks me if it's my property. I think a second about why he would ask that, but go ahead and answer "no". He asks me if I think that is okay. I hesitant longer, trying to figure out what he expects me to say, and finally answer what I think, that "yes, I think it is okay picking mulberries off a tree in a lot".
Then he says, let me see some ID. I knew it was coming. I think I kind of laughed and said something like, "you have to be kidding". He doesn't say a word, but gives me an menacing stare. I think about it for a couple seconds. I didn't feel like I had to produce any ID and I normally wouldn't have even had it on me, but I was going to pick up my van, so had my wallet. Anyway, I took out my wallet and gave him my driver's license. He called it in. It took a bit. He handed me my license back and said that I should be movin' along. I never said another word to him after the "you have to be kidding".
I don't get it. I wasn't dressed like a dirt bag. I had on jeans, a white t-shirt and my MTB shoes. Anyway, it kind of bummed me out. I was having such a nice day and he threw a wrench into it. I guess that is what makes life interesting. I had met this inspirational guy, that was doing me a service by clearing the bike paths of stuff. Then I see the other part of society, that is supposed to be doing me a service, but has somehow evolved into something else. I'm not quite sure what else it is, but it isn't something I particularly like.
Up until recently, I had hardly ever had to produce a license to a police officer for anything other than a speeding ticket. Now, it seems like on a monthly basis, I'm having to do it for virtually no reason. I guess I just happen to be in the wrong places at the wrong time. But, I like being in those places at the times I'm there, so I guess it is something that I'm just going to have to get used to, no matter how much it rubs me the wrong way.
Anyway, the day didn't get better. The van wasn't repaired. A new bushing they put it failed I guess. Taking Bromont around is always something to look forward to. He ran a couple miles, decided it was too hot or something and jumped into the creek and wouldn't get out forever. He likes swimming, so I guess it wasn't that bad. I rode 35 miles with Bill. My shoulder and back are worse than last week. I can't stand and am tweeked climbing sitting down. I thought since I felt okay last week, it would be much better by now. That isn't close to the case. It's only been two weeks, I need to remember that, but it's hard.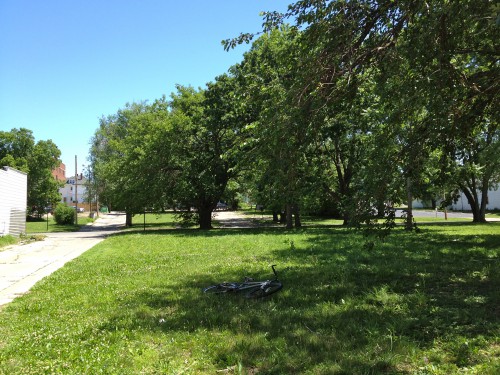 The scene of the "crime".