For some reason, I've been replacing a lot of rear derailleur cables recently before or after the club rides. I'm not sure with Sram or Campy shifters, but Shimano shifters have always had a tendency to eat up rear derailleur cables up inside the shifter body itself. My brother is notorious for having the cables break, in races and training.
Anyway, there is a new guy from Florida that is riding with us now and his shifting sucked yesterday. We stopped after 1/2 an hour and I messed with it. I realized pretty quickly that the cable was suspect. It wasn't shifting good up or down. So when we got home, I told him I'd look at it for him.
Just like I suspected, his cable end was frayed. Pretty badly really. He only had a couple more rides left on it. Anyway, I had heard that he had taken his bike into a local shop to get worked on last weekend. He said that his derailleur hanger was cracked and that he got a new one. Plus he said he had paid for a tune up. It surprised me that he could have gotten his bike back after a tune up and it shifted like that.
But, there is a huge difference between a race mechanic and a local bike shop mechanic. A race mechanic fixes a bicycle like he would if he was going to be racing the very bike when he was done. He fixes it and then will usually take it out for a short ride to make sure it acts the same off the stand as it did on the stand. The same with everything else he does. A race mechanic realizes even a very small problem with a bicycle can be the difference between winning and losing. Or winning and finishing sometimes.
Most race mechanic I know have raced bicycles sometime in their lives. I don't think it is mandatory that is the case, but it usually is. I think this gives them an appreciation of how perfect a race bike has to be at all times.
I think the average person would be surprised how many times a bike get washed. From a riders point of view, I think that the team race mechanics wash the bikes way too much. Especially since the addition of power sprayers all the teams are hauling around. Power sprayers can do a number on the bearings of a bicycle. I do understand if you have to wash 18 bikes or more a night, a power sprayer makes the job quicker, but it makes the longevity of some of the parts on bicycles much shorter. But, the team mechanics usually have a fairly unlimited supply of parts, so that is of little concern for them.
The teams I've ridden on have always had good mechanics. That is something I miss riding on a local team. The relationship between a rider and a mechanic is a special thing. It takes a long while for the relationship to form. But after it does, it is a true bond. The mechanic knowing exactly how the rider wants his bike to be in every instance. There are very few people I would allow to work on my bike ever. I've been fortunate having some of the best guys in the business as team mechanics. And most are good friends still.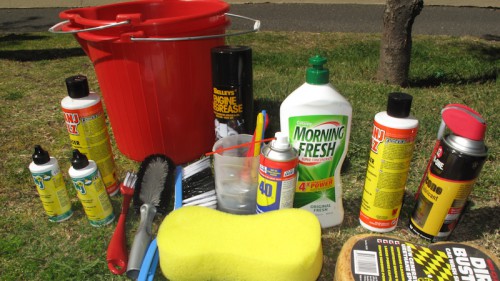 I found this photo at a website that tells you how to properly wash your bike. It is overkill, but okay.