I've been replacing this fence down in Richardson Texas the last few days. It always amazes me how important that the proper tools are for each and every situation. It isn't only in construction, but everything you need a tool for.
I'd say that a large part of doing construction is having the right tools for the job and always having the necessary components when they are needed. Nothing slows a project down than running out of anything. It goes in a certain order and when that order is interrupted then the project sometimes comes to a complete stop.
The same when dealing with bicycles. More so. Can you imagine not having a chain tool when one is needed? There is nothing that can replace that. Maybe in "wartime" you could use a punch and a pair of pliers to get a chain back together, but not in a race situation.
Park Tool company is now taken for granted, but they have been innovators in bicycle tools. When Thomas Frischnecht first came to the US from Switzerland, he barely spoke English. It was about the same time that Park came out with the tri-tool, the y-tool with the 4-5-6 mm allen keys on it. When Thomas came to Boulder and stayed with me and saw the tool, he wanted to buy 50 and take them back to Switzerland and give them to his friends. He was that impressed with it. I have to agree. Life is much easier for me because there is a Park Hex wrench in the world. It holds true for lots and lots of tools.
Specialty tools are just that, special. There are many situations that there is nearly only one tool that will work for a specific situation. And if that tool is missing or unknown to the person that needs it, then there is nearly a zero percent chance that the task can be completed.
I guess this post is for me to acknowledge my appreciation to all the people out the that have thought through the process and made tools for each and every situation. It makes my life much easier on a daily basis. I always look for projects that "force" me to acquire new tools. If that is the case, then the project is usually always a success.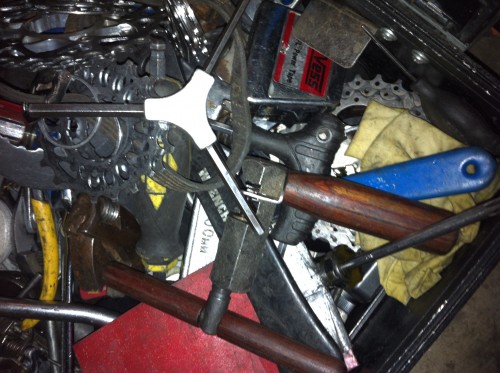 This Park tri-tool and Shimano chain tool, in this completely organized tool box, are two tools I could never do without.