I drove down to Texas again last night. There are 4 criteriums here the next two weekends. It is pretty weird, but I haven't ridden a criterium this season yet. That is amazing to me. I would usually have at least 5-10 criteriums under my belt by now. There are lots of reasons for this. The early season training criteriums in Lawrence don't allow Cat. 1 riders to race anymore. I have no idea what that is all about. Plus, I haven't been racing as much as some other springs.
Another reason for being here is I have a fence to build. It is much bigger than I had thought. I packed up the van with all the necessary tools, but I'm sure I forgot something.
The riding in Dallas isn't what the riding in Austin is. I'm a little worried about that. Anytime I get situated in a big city that I'm not familiar with I panic a little. But, every city has its rides. That is the cool thing about cycling. You get to explore the city up close and personal on a bicycle. It is one of the best parts of the non-racing aspect of the sport.
I knew they hadn't burned enough this Spring in Kansas. Even though I've been gone a fair amount, I haven't talked to anyone at home that was complaining too much about the smoke. That wasn't the case driving through the Flint Hills toward Wichita yesterday. It was ablaze. And all that smoke was blowing up towards Topeka. So, in that regard, it wasn't a bad time to left for alittle while.
I've been feeling okay riding. I have a bunch of power sitting on my seat, but seem to be missing the standing power, which is normally my forte. I normally don't do anything to try to consciously screw with my pedal stroke, but I don't think I've been pulling up on the back stroke enough when I'm standing. It's probably because I'm riding easier gears and spinning a little more as I get older and lose power. It is hard to climb efficiently, pulling up, when you're pedaling over 90 rpm's or so. I've been riding bigger gears climbing off my seat, concentrating on pulling up. I doubt I'm going to get to do that too much here because it is pretty flat around Dallas. I'd like to make it down to Austin for a couple days next week to train. Hopefully that will work out.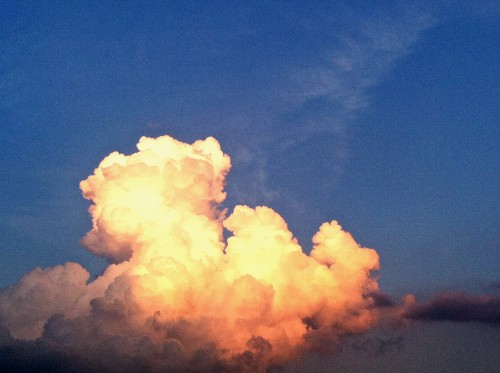 I saw this super cool thunderhead driving through Southern Oklahoma.