I've had nearly 24 hours to let the Elite Cyclocross Worlds mull around in my mind and I'm not good with it. Something is amiss here, but I can't exactly put my finger on it. It most likely started with the "stacked" results by the Belgium team. The results were not good for anyone involved other than Niels Albert and Rob Peeters. But it goes beyond that. It is a multitude of small things that add up to perplexity.
I have to state once more, the course sucked. I know the course was extreme, but it was too extreme for a World Championship. It was nearly singletrack most of the way around. That isn't my idea of cross. Passing should be much easier. Weather sometimes makes a course less passing friendly, but it was never going to be the case on that course, no matter what the weather was going to be.
The course wasn't long enough either. With this new 80% rule being enforced, the time to get pulled was really small, making the results look all that more wrong. I'll state it once more, the rule sucks! When Jeromy Powers, the US National Champion and a rider that has finished top 10 in a World Cup this season, gets pulled with -2 laps, something is drastically wrong. Way over half the field was pulled. Chris Jones, one of the best cross riders in the US got pulled at 5 laps, half the race. It wasn't a great course for him, but come on. A couple of riders only got to ride 2 out of 10 laps. I stated a couple days ago that I wouldn't even have bothered to line up if I started more than 3 rows back. I'm sticking with that. Niels Albert had a 0 % chance of winning that race from the 4th row. I understand the line up procedure and the fairness of it, but it is the World Championships and it is its' own race. Let's give the other riders that aren't on the front row a little chance to show themselves if they are having that day.
The results were pretty predictable. The women's race was too easy to pick the winner. It was a given. And Niels Albert wasn't really a stretch either. I really don't follow the Euro cross season super closely, close enough to know each and every guys abilities on each course and I didn't have much of a problem guessing a couple guys that finished in the front. It was a reach throwing in Rob Peeters in my pre race predictions, but I've seen a couple videos of him motoring through the sand recently and thought he might have a stellar day on home turf.
Stybar cracking wasn't something that I expected. But, it is sport and everyone has good and bad days. Having a good day on a course Koksijde is as much mental as physical. Mentally, losing the gap on Albert so early into the first lap seemed to destroy him. He was never really a part of the mix. Too bad, it would of legitimized the race some if he would have been in contention more.
16 riders at the Belgium National Championships and then they finish 1st through 7th at the World Championships. It seems weird, to say the least. It's like the Russian Team Time Trial Teams of the 80's. I remember a story when the Czech National TTT team went to ride the Russian National Championships one year and finshed 19th place. Then a couple weeks later, at the World Championships, the Russian Team won and the Czech Team finished 2nd. That means there were 18 TTT teams in Russian that could have won the World Championships. Viatcheslav Ekimov, who won the Olympics twice on the track, once said it was harder winning the Russian Nationals than the Olympics. That could now be said about cyclocross in Belgium.
I have to be astonished that I didn't witness one male rider fall in the Elite race. The bike handling skills of those guys in the sand was phenomenal. And it was completely amazing the 61,000 + spectators lining the course. Belgium is crazy for cyclocross, that is for sure. When the King of Belgium is in attendance, that is something special. (I don't think Obama, or whoever, is going to be in Louisville next January.) I'm sure most of the people there are still shaking heads about the results. As I am. I'm sure I'll post more about this later when I can get a handle on what I think really happened and try to make more sense of it.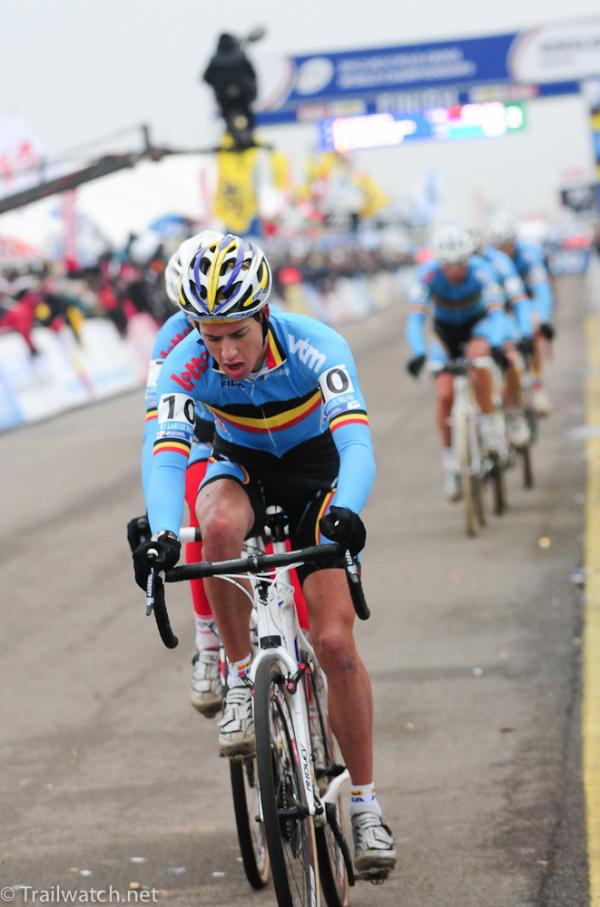 Picture is worth 1000 words.