It is officially a mess here in Louisville at the Master's Cross Worlds. It rained an inch yesterday, plus last night, and it is going to keep on going. Today the rain is supposed to change to snow sometime later in the afternoon. The snow is going to be less than 2 inches, but that is enough to make it just that much uglier. I'm racing for 3 laps at 10:10 this morning. The wind is supposed to be blowing around 30-40 mph during day with the temperatures dropping all day to the mid to lower 20's tonight. That's a big change from yesterday that topped out in the mid 50's.
I only rode 2 laps yesterday. You can't come close to riding anything that is uphill. So there are going to be something around 9 running sections a lap. If this was my race, I'd just race the qualifying races around the sloggy, wet grass field and then run the races for the jerseys on the "real" course. It doesn't really make much sense destroying the course more than it already is. The hills will never be rideable now that they are riddled with footprints. It's going to be fun.
With the random pick, I picked the last number in the 2nd heat. At least that is what the guy at registration told me. So I'm going to have my choice of starting anywhere I want at the back. At least it is better than starting at the back behind 70 guys for one race. The wet field is so energy intensive that I should be okay moving up to a good position early on. At least I get to watch the first heat and check out how they are doing the hillside before I have to get all muddy.
Okay, the weather is only going downhill for Friday's races. There will probably be snow on the ground and the temperatures are going to be staying under freezing. I'm glad I'm racing this morning. I'll let you know how it goes.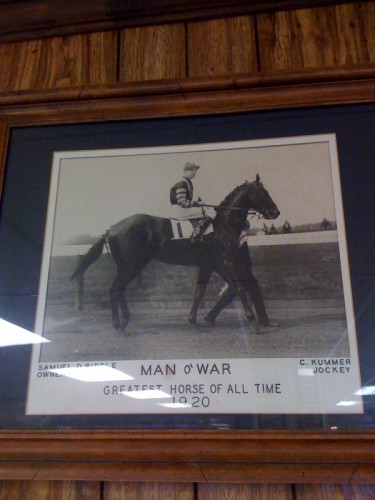 We ate breakfast at Wagner's Pharmacy, a famous restaurant/pharmacy across from Churchill Downs. It was a horse racing museum, restaurant, and pharmacy. Pretty great.