I'm not sure I've ever not finished two races in a row. Maybe on consecutive weekends, with a full 5 days in between, but I can't remember two races back to back. And that was the case in San Diego this past weekend.
Saturday was probably more mentally frustrating of the two days. I hit my right knee pretty hard last weekend in Berryman. During the desert cross race, a little over 1/2 way, I was riding through a sand pit and wacked the inside of my knee on the top tube. Then, just a few pedals strokes later, I was climbing and my rear wheel lost traction and the same knee hit my bars. I immediately felt a shooting pain upon the next pedal stroke. I did just a couple more and stopped. The knee has been kind of iffy this whole past week and I was more than concerned that it was jacked up more than regular. I sat there for a minute or so and decided to get moving and it hardly hurt at all. It got sort of swollen, but by Sunday that seemed to be gone too. It makes me wonder if I'd just done a few more pedal strokes, it all would of been fine?
Sunday was just a mechanical. The course was the same desert dirt riding, with a tightish grass section on the back. About 1/2 way through, again, I was powering up a short steep climb and bam, my other knee was slamming into the bars and my chain was hanging on the cogs. I have only broke a handful of chains in my life. About equal with Shimano and Sram. But, I've ridden Shimano chains maybe 10X the times the duration I've ridden Sram, so it probably isn't a fair comparison. It broke on the pin. I put it together correctly, pretty much, at least in the right direction. Maybe not using a Shimano chain tool is the reason. I don't know. I think it is super weird that I brought a Park chain tool with me out here. I hardly packed any tools at all and have no idea why I threw a full size chain tool into my bag.
I've written here many times, I'd rather be riding good and have a bad result then riding bad and having a good result. That is the case here. But, I really don't know how good I was riding. I never got to the point of the race where I really had to show my goods. Both races I was in the front. On Saturday there were just 3 of us left and then on Sunday it was a group of 5 or so. Both days I was completely within myself, which is nice since it was a cyclo-x and that is pretty much a luxury.
So, I'm going to ride some big miles this week in Southern California. I raced my training wheels both days, setup with bald Hutchinson Bulldog tubeless tires. I'm finally going to take those tires off today and put road tires back on. I think it was nearly been a month. I bet the road tires feel great. It's supposed to be in the mid 70's most of the week, cooler on the coast of course. Should be perfect for riding.
Yesterday afternoon, after fixing my chain, I rode up the coast to Del Mar. I was thinking how great it is that what I do on a normal day is nearly exactly the same as what I'd be doing if I was vacationing. I completely understand how unique that is and that makes me appreciate it just that much more.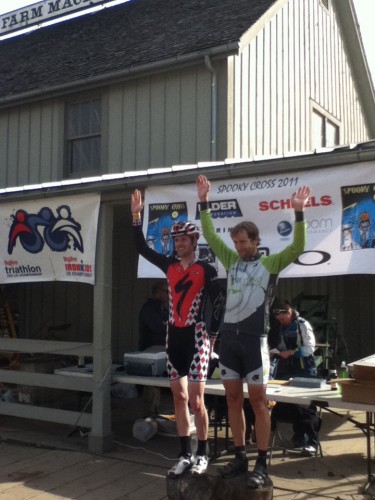 Brian Jensen, my Tradewind Energy team mate, went up to Iowa and won on Saturday.