Man, cyclocross can be a pretty hard sport. It was yesterday in Madison. It was a mud bath. The weather proceeded to get worse as the day went on. By the time we started at 4 pm, the course was pretty much done. It wasn't completely done, because we made it worse.
I don't really have much to write here. I kind of just rode around. Not that I didn't put some effort into it, but my result, 29th, sort of reflects the amount. I sort of got into the flow of things after a couple laps, but then I got a huge piece of mud in my left eye, which is already bad, and that pretty much shut me down for the rest of the race. I might of looked like I was trying, but it was half hearted, and this is a sport that you can't participate in like that.
I had the right tires. Since I got the screw in the rear Challenge Limus, I put on the new Specialized mud tire, the Terra. I still had the front Limus on. Both these tires seemed to hook up as well as could be expected in these conditions. It was very slick mud. Slick mud on top of hard pack in the corners. It was tricky. I still felt a little off balance, but was better that the previous two races of this trip.
Bart Wellens was going pretty fast. Not out of control fast, but much faster than I could go. About a minute a lap faster. My only complaint of the race was the officials applying the 80 percent rule. I'm going to rant on this sometime this week, so am not going to go into specifics now. But, the rule is bullshit and a lazy way for officials not to have to score the race, even if they apply it correctly, which they didn't here.
So, that might be it for cross for a bit. 3 races and out. I don't know. I need to get some muscle things figured out and Nationals and Master's Worlds aren't for nearly 3 months. I want to be going fast in January and racing cyclo-x for 3 months straight isn't a good way for that to occur. I might do a few races here and there to keep some kind of cross form, but I'm not racing 8 races a month Oct.-Dec.
We drove back to Kansas last night after the race. Didn't get back to Topeka until after 2 am. The most challenging part of the day, was trying to focus the whole drive. I had so much stuff in my eyes, I couldn't come close to getting it out. I was using eyedrops constantly and it didn't really help. I never regret making the effort of driving late to wake up at home. It makes a long day, but seems like it saves a day of driving too.
The weather here is perfect fall weather. Highs around 80 and lows in the 50's. Can't beat that.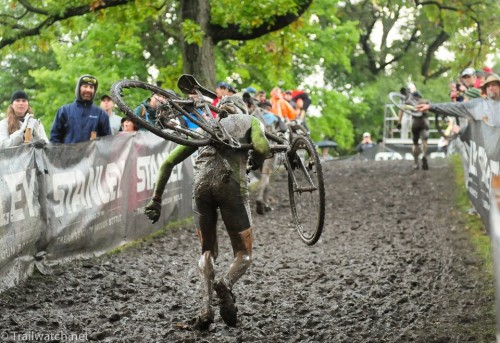 Here's a photo from Cyclingnews.com.