I guess I'm going to drive up to Madison later this morning and check out the course for the races this weekend. I'm always much more tired 2 days after a race than the first day. I've never really figured that out. I didn't race the Madison races last year, but I've raced there in the past. Lots of turns and kind of dusty.
Lots of stuff is going on in the news that is pretty interesting all the way up to super interesting.
The super interesting stuff, at least to me is the discovery at CERN that something can move faster than the speed of light. They measured neutrinos moving significantly faster that the 186,000 miles/per second of light. If proven true, that throws a gigantic wrench into Einstein's Theory of Relativity. I don't know how long it is going to take Fermilab or the Japanese to prove or disprove this discovery, but if true, physics might be back at square one.
Lance and a few others seem to be in more trouble with money laudering. Denis Menchov and Michele Scarponi are in the same boat. Here is the link at Cyclingnews for the article.
Chequamegon Area Trails got grant to improve the trails and maybe add some single track at the end of the race? This article at Cyclingnews says they are putting a little single track in on the North End that is going to be used in the race. I've been an advocate for adding singletrack for sometime. Hopefully it is going to happen now.
And finally, today is officially the first day of fall. It is the autumnal equinox today, the day when night are equal times. It is only the first day of fall in the Northern Hemisphere BTW. Fall is for cyclo-x. Actually, this year, with Nationals being in Madison, winter is for cyclo-x.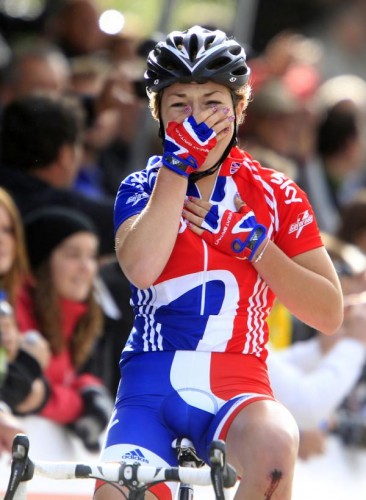 Here is a great photo of Lucy Garner, Great Britain, winning the Junior Worlds today. Congratulations! More photos and article.
Here's how not to dismount quickly.