Bill Marshall hooked me up with a few new Challenge Tires last week. I haven't had a chance to mount them up, but off the bike they look great.
The new Limus 'Cross tires are pretty exciting. I'm pretty sick of Dugast tires. Super expensive and they don't last even if you baby them. Challenge tires are exactly the opposite. Not so expensive and they are hardy. I don't agree about the tires being mud specific. I've never been depressed with too much tread in a cyclo-x. I'm kind of like Tim Johnson in that respect. He seems to ride a lot of tread, no matter what the event. The tread of the Limus tire is incredibly deep. If they hook up like they look, it will be my tire of choice for the season.
I also got a couple 24mm road tubulars. I've been interested in riding bigger profile tires ever since I read this year about many of the Pro teams in Europe riding them because of a reduced rolling resistance. I'm into the cornering aspect though. I know that when I was racing Fatboy Criteriums, the 1.25 tires were incredible for corning. I don't know why it would be any different going from 21 to a 24. Challenge makes a 27mm race tire. It will be fun trying them out.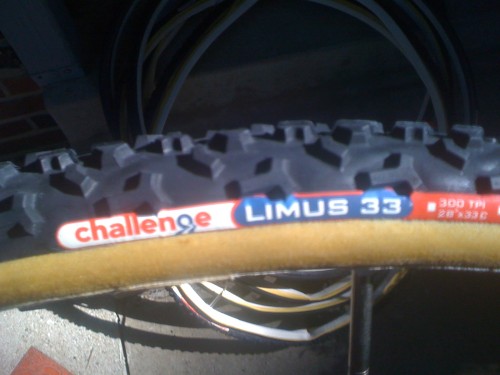 UCI max width at 33mm.