Like I posted yesterday, I decided to drive the 3 hours up to Lincoln Nebraska and race a couple local events this weekend. I don't do too many local events. It is strange bike racing. Harder and easier at the same time. Usually more harder now that I ride with Brian. He likes to ride hard most of the time. So, if I want to keep up with him, I have to ride very hard too. Bill also. That was our team, 3 of us. It was a small field of Pro 1-2's, around 20.
The course is .7 mile barbell shaped course next to the state capital here in Lincoln. It is flat, but it was windy. And kind of hot, 80's.
I ended up lapping the field with Brian. Just the two of us. I was going pretty mediocre. I couldn't tell how Brian was feeling until he decided to ramp it up a couple times and it impressed me. When we got into the field, 3 other riders were up the rode 30 seconds, so we brought that back for Bill. So, we lead Bill out the last lap. Brian took nearly the whole lap at warp speed. The finish line was 400 meters from the last corner and I came out of that with Bill on my wheel and it was done. A Tradewind Energy team sweep of the podium.
I didn't really think that was going to happen, but we rode hard and that is how it played out. My legs are hurt now. Today we race an another criterium/circuit race in Pioneer Park. I raced both of these races back in the 70's Pioneer Park in 1975 when I was an intermediate. That is nuts to think of that, 36 years ago. This course today has a big hill in it and should be a better course for us, if that is possible.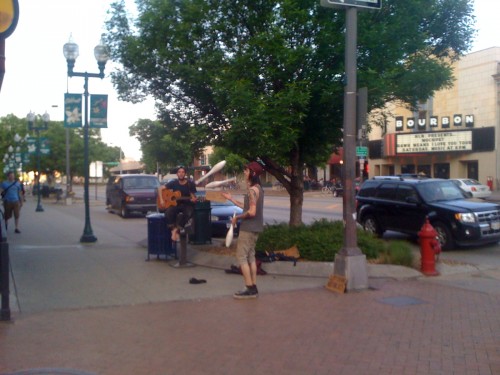 Lincoln is a great, midwest college town. The downtown area was hopping. Street performers, etc. The sign on this guy's guitar said something like, "I quit my job because of the rapture." Guess it didn't happen in Lincoln at 6pm?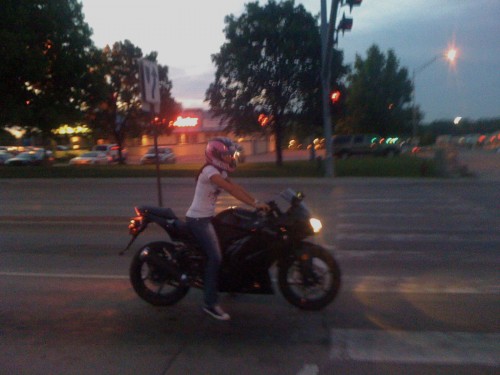 This caught my eye on the way to ice cream. She could barely reach her toes to the ground, nice.