I've known and raced against Chris Horner a long time. He never ceases to amaze me. He did it yesterday at the ToC and also here racing in the US, when he rode for Webcor. It was truely amazing how much better he made those guys on his team, thus enabling them to work for him more. That is one of the best things about him, he makes the riders around him better bike racers.
Chris Horner usually puts his money where his mouth is. Back in 2004, when Jason MacCarntney won the Olympic Trials in Redlands, Chris got a lot of shit from people when he was quoted as saying that he was extremely disappointed that he didn't win the race and make the Olympic team. This was the only way that he was going to be picked. This was also the only time I've ever written anything to Velonews. They printed my opinion that completely backed up Horner's, non modest, views. Nearly every single rider in the race, minus me, which didn't count, was riding against Horner. He was sick, on antibiotics and still nearly smeared everyone on a super hard course on a super hard day. He deserved to be disappointed. He was the best guy there, by miles.
What I like best about Chris is that he is a smart guy, in the sport of cycling and he loves to race bikes. I nearly had the pleasure of racing with him on a National Trek Cyclo-X Team a couple years back, but he had to go and break his collarbone in Elk Grove and that put an end to his 'cross season that year. It is amazing, here is a guy that is racing the Tour de France, finishing top ten, and is still racing Jingle Cross Rock in Iowa in November. That is completely opposite of professional bike racers nowadays. They are racing less and less.
Chris is a super friendly guy. The problem he's had his whole career is that a lot of what he says comes off as a bit arrogant. And he's not arrogant in the least. He just says it like he sees it. Take the quotes below after he way yesterday's stage-
"I think in my career I have been under appreciated," Horner said. "When I arrived here at the Tour of California, I found it quite insulting to not be invited to the press conference. I think the press should have known, I have won the Basque Country and I was second at the Basque Country. I've been fourth here at the Tour of California before and I found it insulting that I wasn't invited to the press conference."
"Throughout 16 years of professional bike racing, I've been underrated many, many times," he added. "I've done a lot of domestique work and sometimes I see where the press can lose me in the lime light. When you have teammates like Alberto Contador and Lance Armstrong, you can't have five RadioShack or Astana riders up here. At the same time it is easy to see that my form has been with the best of the best in the world and with the exception of Alberto Contador, I don't think there is anyone that can drop me."
A few of those statements sound a bit arrogant and whiny. But, that isn't the case. I agree with everything he said. He has done a ton of domestique work throughout his career. That is how he got his foot in the door to return to the European peleton and that is mainly what he has been getting paid for to do the last few years. But, it seems he's gotten the green light to race for himself some now, and he's making the best of it.
I think Chris Horner is going to win the ToC. And I'm going to go out on a limb and say that I think he is going to finish on the podium in the Tour this year. And not on the bottom step.
Here's a link to Chris's website and a blow by blow account of yesterday's ToC stage.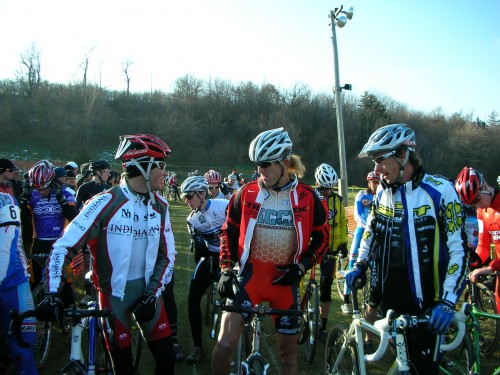 Chris, Todd Wells and me at Jingle Cross a couple years back.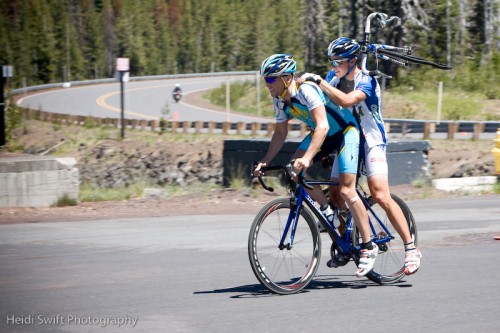 Here's what Chris does when he's done working for Levi at "local" stage races like Cascade. Here's the complete photo series. Thanks for reminding me Spencer.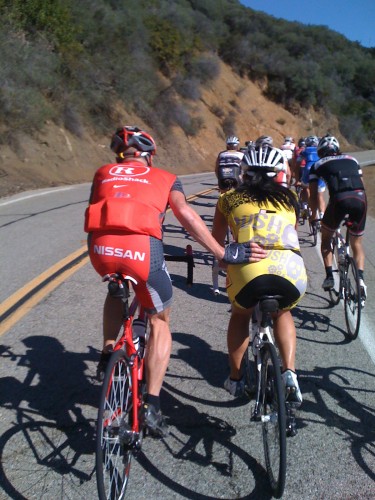 Chris giving Mari Holden a hand on the Andreas Knickman Benefit ride we did last fall.