I normally would be all over going to Speed Week. But, I vowed to never go again. The last time I went to Speed Week was 4 years ago, I think. I crashed 4 times in the first two races and vowed I wouldn't go back. On Sunday, in Roswell, Ga, the race had to be stopped while they cleaned the carnage off the road. I haven't talked to anyone about the race, so have no first hand knowledge of the extent of the damage, but I have been in very few races they stop because of a race, so I suspect it was a bad crash.
I'm not sure why a race series seems to have the same "issues" over and over. The Twilight course is kind of sketchy, being so short and at night, but most of the other races are just normal criteriums. Kind of tight, but okay courses. I think it might have a lot to do with the quality of the fields. There is a big diversity in the riders ability, even though it is a NRC race and a PRO-1 field. I'll never understand the USAC's inability to recognize that having 8 riders from a pro team in a criterium is not good for the sport. Not for the spectators and definitely not good for the riders.
Yesterday in Roswell, the report said that UnitedHealthCare started the leadout with 5 laps to go and ended up 1st and 2nd. Jake Keough said, "We had eight guys on the front and anytime there were any kind of moves or anything we had guys there." That is so wrong. It's hard enough trying to ride at the front of a tight criterium without having 8 numbskulls on the same team putting you out into the wind because they feel it is their place to be on their team mates wheel. So, people fall down.
I don't mind falling. Actually, I don't like to fall, but it's just part of bike racing. I definitely don't "get up" as quick as I used to. But, it isn't a big deal usually. That being said, I'm not going to go out of my way to go to races that historically, statistically, you have a high chance to fall. In Athens Twlight, I'm over 50% crash ratio. That is just not right, thus, I most likely won't ride the race again. It's too bad, because it is one of the best criteriums in the country. Funny how that is.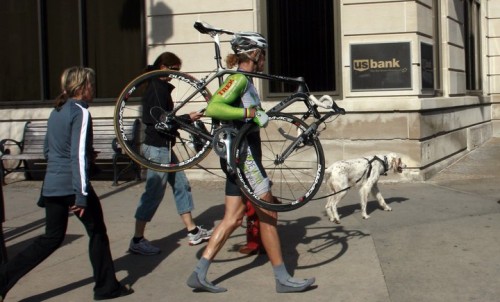 I can fall in Iowa City when there is only one guy ahead of me, so it can happen anywhere.