All I have to say is that if it was me positive for clenbuterol, do you think that I wouldn't be serving a suspension? And for how long wouldn't I be serving that suspension for? What about the plastic?
Here is what some cycling journalist have to say about today's news.
And, Tom Boonen.
Here's a link to a Velonews.com story about who Lance beat in 2005. Disgusting.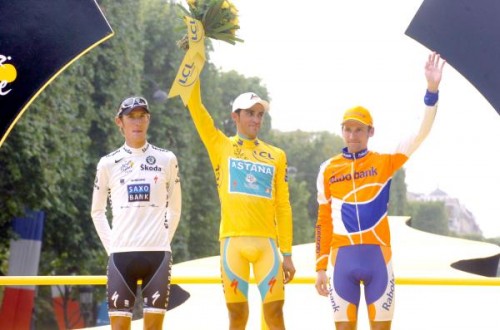 This isn't so, so bad. All three of these guys are happy now. Obviously, Alberto is happy. And since Andy didn't really want to win the Tour de France, at least that way, I assume he's happy. And Menchov didn't want to get 2nd instead of 3rd, so I guess everyone on the podium is happy by this ruling.
Here's a list of how that podium of the Tour de France would have looked during Lance's reign to Floyd's problem. Anyone that was every positive was left out of the results. I'm so glad that this year we don't have to do that. Makes the sport seem so much more clean and fair now!
1999
1. Lance Armstrong (1)
Alex Zulle (2)
2. Fernando Escartin (3)
Laurent Dufaux (4)
3. Angel Casero (5)
2000
1. Armstrong (1)
Jan Ullrich (2)
Joseba Beloki (3)
Christophe Moreau (4)
Roberto Heras (5)
Richard Virenque (6)
Santiago Botero (7)
2. Fernando Escartin (8)
Franciso Mancebo (9)
3. Daniele Nardello (10)
2001
1. Armstrong (1)
Ullrich (2)
Beloki (3)
2. Andrei Kivilev (4)
Igor Gonzalez de Galdeano (5)
3. Francois Simon (6)
2002
1. Armstrong (1)
Beloki (2)
Raimondas Rumsas (3)
Botero (4)
Galdeano (5)
2. Jose Azevedo (6)
Mancebo (7)
Levi Leipheimer (8)
Roberto Heras (9)
3. Carlos Sastre (10)
2003
1. Armstrong (1)
Ullrich (2)
Alexander Vinokourov (3)
Tyler Hamilton (4)
2. Haimar Zubeldia (5)
Iban Mayo (6)
Ivan Basso (7)
Moreau (8)
3. Sastre (9)
2004
1. Armstrong (1)
Andreas Kloden (2)
Basso (3)
Ullrich (4)
2. Azevedo (5)
Mancebo (6)
3. Georg Totschnig (7)
2005
1. Armstrong (1)
Basso (2)
Ullrich (3)
Mancebo (4)
Vinokourov (5)
Leipheimer (6)
Michael Rasmussen (7)
2. Cadel Evans (8)
Floyd Landis (9)
3. Oscar Pereiro (10)
2006
Landis (1)
1. Pereiro (2)
Kloden (3)
2. Sastre (4)
3. Evans (5)