The temperatures in Austin look great. At least for a bit. Ann and Stanley are always welcoming. And I know the riding. Seems like the right place to go and train for awhile. I don't have a ticket to Europe yet. I hate planning too far ahead. The race is 3 weeks away. I don't think my form is that far off. But, I'm not sure. Thursday, when it was 70, and I wasn't hauling around all the extra stuff you have to wear at 25 degrees, I felt pretty alright. But riding in thermal tights, winter boots, etc., I feel slow and lethargic.
We'll see today. It is supposed to get up to the lower 40's today. There is a group ride from my house at noon. I doubt I can get these guys to go out for more than a couple hours, but that's okay.
My junior/high school girlfriend, Sara, is in town for the holidays. She lives in Genoa, Italy, but her mom lives in Topeka. She has a 6 year old daughter, Iolanda, and we're taking Iolanda out to the country and go dog walking after the ride. She wants a puppy something seriously, but living in an apartment in an European city is hard for that. It should be fun.
After that, I'm going to try to round up everything I think I might need for the next month and pack up. I should be driving early tomorrow morning, but it never goes as planned.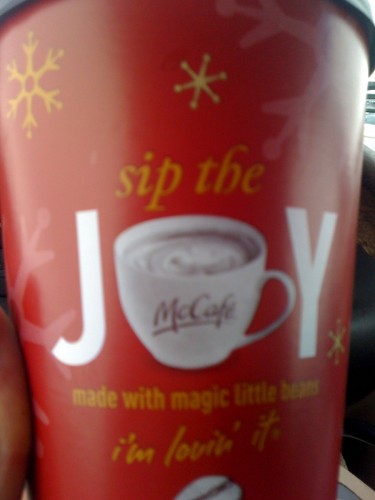 I got this cup at McDonalds. "Magic little beans?" I heard that Starbucks bottom line is being hurt from McDonalds because of coffee. McDonalds' coffee is not Starbucks coffee.