A friend and former teammate's son, Andreas Knickman, has been having a hard time the last couple years with cancer. On Wednesday, November 3rd at 9 am, there is a ride in LA to benefit Roy's family. If you are near Newbury Park, California, please come by and participate. Here is the information. A few of Roy's old Levi/Raleigh teammates, Andy Hampsten, Steve Hegg and myself are going to be doing the ride. Plus, lot of other friends of Roy and Debbie, including Dave Zabriskie, Chris Horner, and Mari Holden are going to participate. It is going to be a great ride through the Santa Monica Mts. for a worthy cause. For a little more information, Road Bike Action wrote a little piece on this last week.
I know most of you probably aren't in that vicinity, but you can still help. There is a foundation set up to benefit Roy's family. Please click here for the link to make a donation to Roy's family. 100% of the money donated goes directly to Roy. And the donation is tax deductacle It's important to note that you have to make the donation to the Andreas Knickman Fund. It only takes a couple minutes. It's easy. Thanks.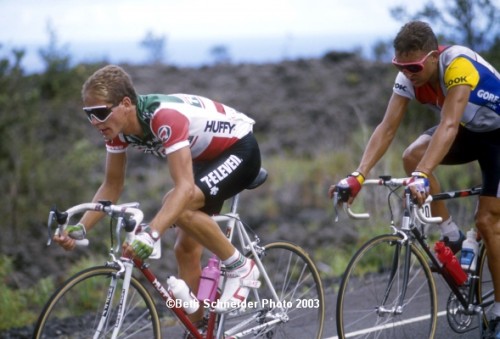 A photo from the 1987 Coor's Classic. Andy was riding for 7-11. Roy and I were riding for La Vie Claire.