Yesterday I finally made a good choice. Riding a long gravel ride instead of cyclocross racing. There is no way I could have had as much fun racing cross as I did riding all day on new roads on gravel. It was a blast. The 8 am start in Lawrence was the only drag of the day, but you know how that goes, after you're up early, it doesn't really matter.
It was cold at the start, but the day eventually turned beautiful. Mid 60's and hardly any wind (for Kansas). Who'd think that Kansas is hilly? I was even surprised how hilly it was. Like crazy hilly. I need to ask one of the guys with a Garmin, but other than the last 3 miles, it rolled all the time. Some of the climbs are nearly 20% grade. There are not many paved roads that direction from Topeka, so it is kind of uncharted territory for me.
Joe Gatti's wife Melody met us up int Oskaloosa with a pickup truck full of food. It was great sitting in the main square, hanging in the sun.
It didn't get any flatter on the way home. Eventually it got down to just 7 of us. Catherine had been whining the whole day, but was finally coming around after 5 hours. Cycling is such a cool sport because you can eventually ride into "form" during a single ride. Dan Hughes, cycling czar of Lawrence, kept his testosterone under control too most of the ride, so it didn't go too crazy.
I got better the whole day too. It is nice feeling the best of the whole ride at the finish. It took us nearly 6 hours for the 105 miles, which isn't even 18mph, but we weren't going slow. I wore a helmet cam and got the first few hours of the ride on video. It might take a while to get to that. Maybe not.
I'm not sure what's on schedule for next weekend. I need to start addressing my leg situation or my cyclocross season is going to be short lived.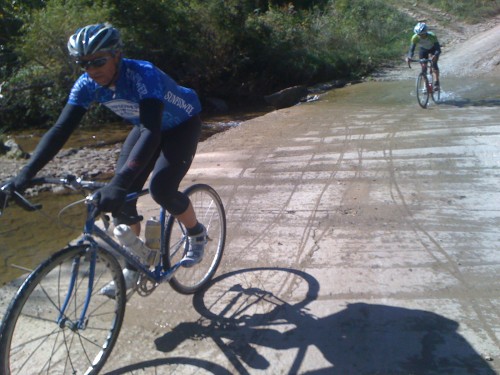 Low water creek crossing.
The map above is interactive. You can click on elevation change to see how undulating the route was.