and all my TradeWind Energy teammates Monday, August 23rd, 6:15 pm, at Spin Pizza, 6541 W. 119th St., Overland Park, Kansas, in the Fountains shopping center. It's a no stress, fun ride for everyone. Either ride a 12 or 24 mile loop. Plus, eat some incredible pizza afterwards.
Here's the official invitation –
If you've ever dreamed of taking a leisurely bike ride with Brian Jensen, Steve Tilford and the rest of the elite cyclists on the TradeWind Energy/Trek Midwest Cycling Team, now's your chance. On Monday, August 23, the entire bike team will join SPIN! Neapolitan Pizza's free weekly Overland Park community bike ride and stay afterward to eat and greet. The ride is open to all ages and skill levels from novice to expert.
TradeWind's own Brian Jensen who's won more than 70 races, U.S. Mountain Bike Hall of Fame member and four-time National Cyclo-Cross Champion Steve Tilford, Nick Coil and Bill Stolte will join the group on a 12- or 24-mile ride through southern Overland Park. The ride will stage at 6:15 p.m. in SPIN!'s parking lot, 6541 W. 119th St. in the Fountains shopping center (there's extra parking behind the restaurant), and head out at 6:30 p.m. Riders will be guided throughout the ride by knowledgeable bicyclists from ShoresSports. Safety is emphasized and no competition is allowed.
Most bike riders stay to enjoy the fun and food. Bike ride participants and their dining companions always receive a 10% discount on food after the rides. In order to plan for the larger-than-usual crowd expected on August 23, please call or email SPIN! to let them know how many will be riding and how many will be eating. 913-451-SPIN (7746) or [email protected].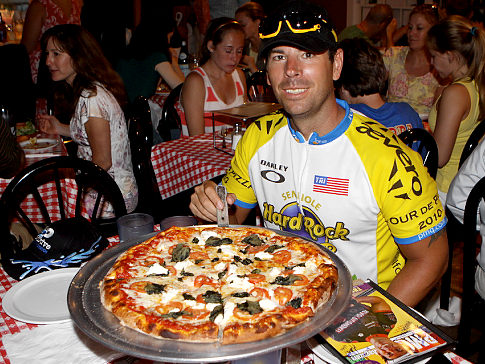 This guy really likes to eat pizza it seems. He rode from Florida to New York City only eating pizza. Here's a link to his story.