Got in the car Thursday night after standing in my garage for an eternity building cross bikes and drove the 10 hours to Cincinnati for 3 cyclo-x races.  That is so cool that the promoters got together and have that many races on one weekend.  Anyway, it drew a pretty good field in both the men's and women's fields.  Actually really good fields.  Katie Compton, Georgia Gould, Sue Butler, Jeremy Powers, Barry Wicks, Jerimiah Bishop, plus many more.
Anyway, the course was pretty bad.  It hasn't rained here in months and it was bumpier than sh**.  And there were a million u-turn corners.  Very hard course to get any sort of rhythm on.  And I had very little rhythm to dance to today.  There were over 50 starters in the men's race.  I started OK.  Got into the grass in 6th, behind Eric Tonkin.  It was so tight for the first few minutes I could talk to him.  Not a normal cyclo-x thing. He was having some cornering issues and it was gassing me.  A big gap and then a hard acceleration.  So, after a lap and a half, Jerimiah Bishop, Troy Wells and a couple others went by.  I felt like quitting and saving it for the weekend, but thought there might be an outside chance that I could still finish in top ten and get some UCI points.  But, I never got going and ended up 13th.  So I'm steadlily moving down in results in UCI races weekend to weekend.  Last race 12th's. This 13th.  And it wasn't an easy 13th.  Not that cyclo-x is ever easy, but this seemed extremely painful for some reason.  Probably because it was in the mid 80's temperaturewise.  And it is supposed to be the same the next two days.  Great!  I'm not doing so well in the heat this fall.
My travelling  compatriots didn't fair so well either.  Catherine Walberg returned from Europe on business late Wednesday night and got in to the van at noon the next day.  She took a bike with here, but only rode it a couple days in Paris and hadn't been on it for most of the past week.  She tied me with a 13th place finish.   Bill Stolte came looking for one measly UCI point for the weekend.  Not today.  He was 25th, which is the last paying place ($19).  He had some mechanical issues and had to make a few stops into the pit.  It should go better for him the next two days I'd think.
So,  two more painful days for me to look forward to.  At least it's a weekend and we get a reprieve and don't have to endure the stocks market woes/economy disaster for two more days.  Cycling is a simple life in comparison.
Results from my recollection as follows (don't hold me to these!).
1. Jeremy Powers
2. Jerimiah Bishop
3. Barry Wicks
4. Joachim Parvo
5. Jonathan Baker
1. Katie Compton
2. Georgia Gould
3. Sue Butler
4 Deidre Winfield
5 Devon Haskell
Photo smorgasborg below. (Double click photos to enlarge.)
Me and my garage.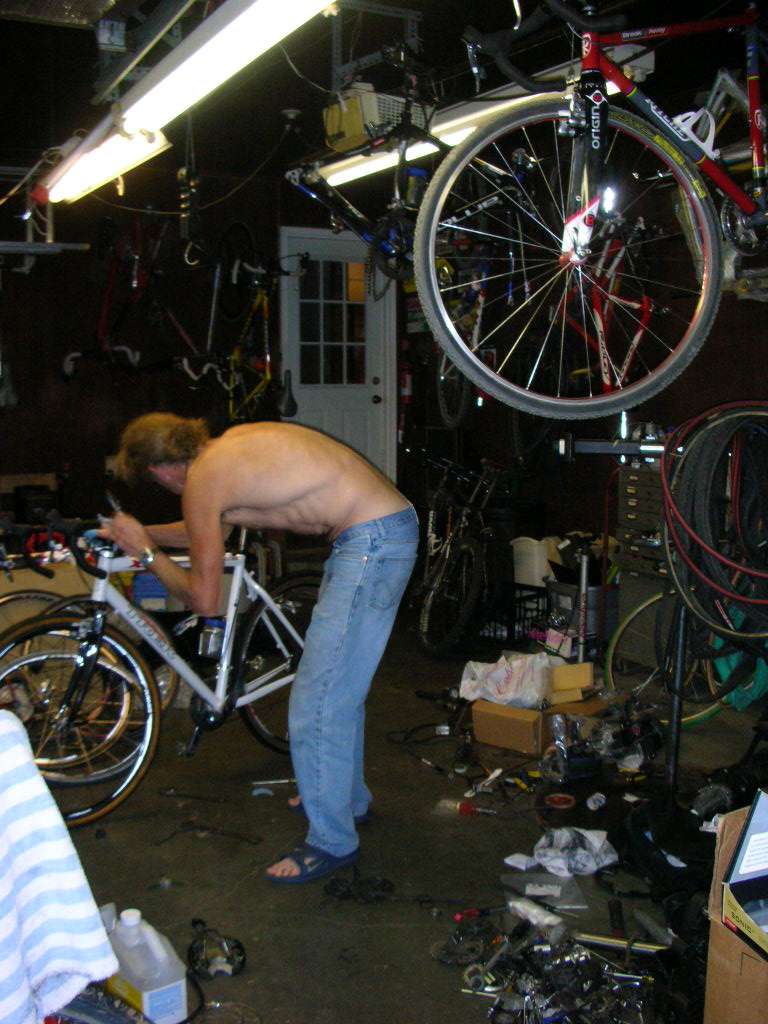 Prebuild fork selection.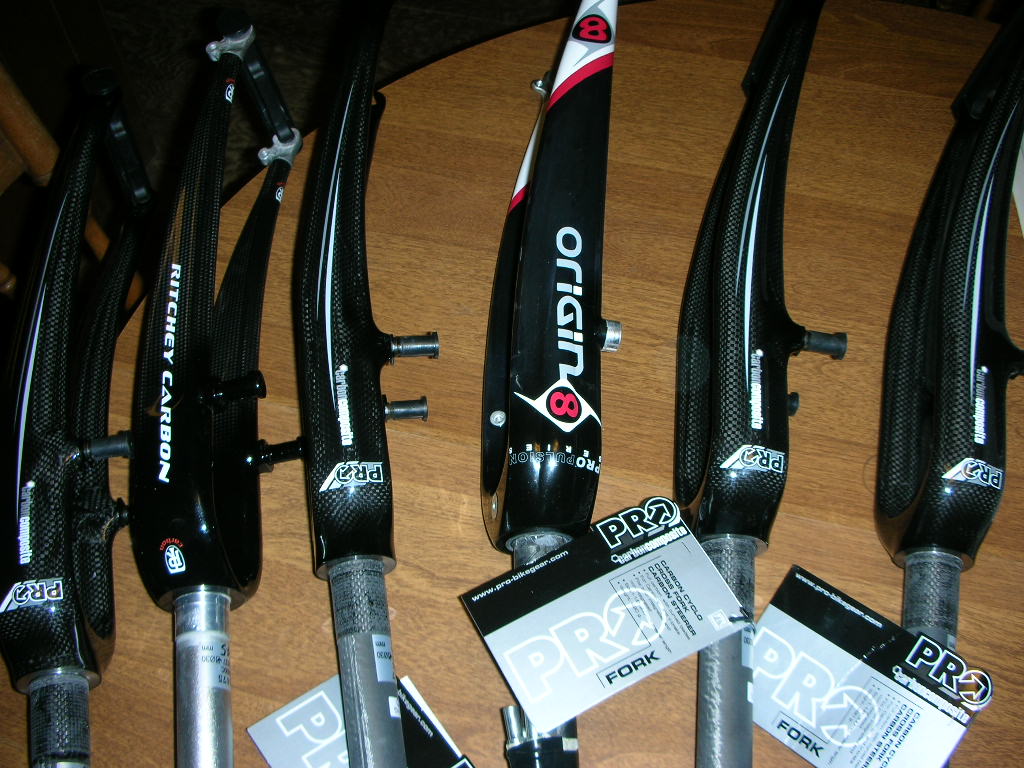 Looking for my seat and post and Bromont took it to bed with him.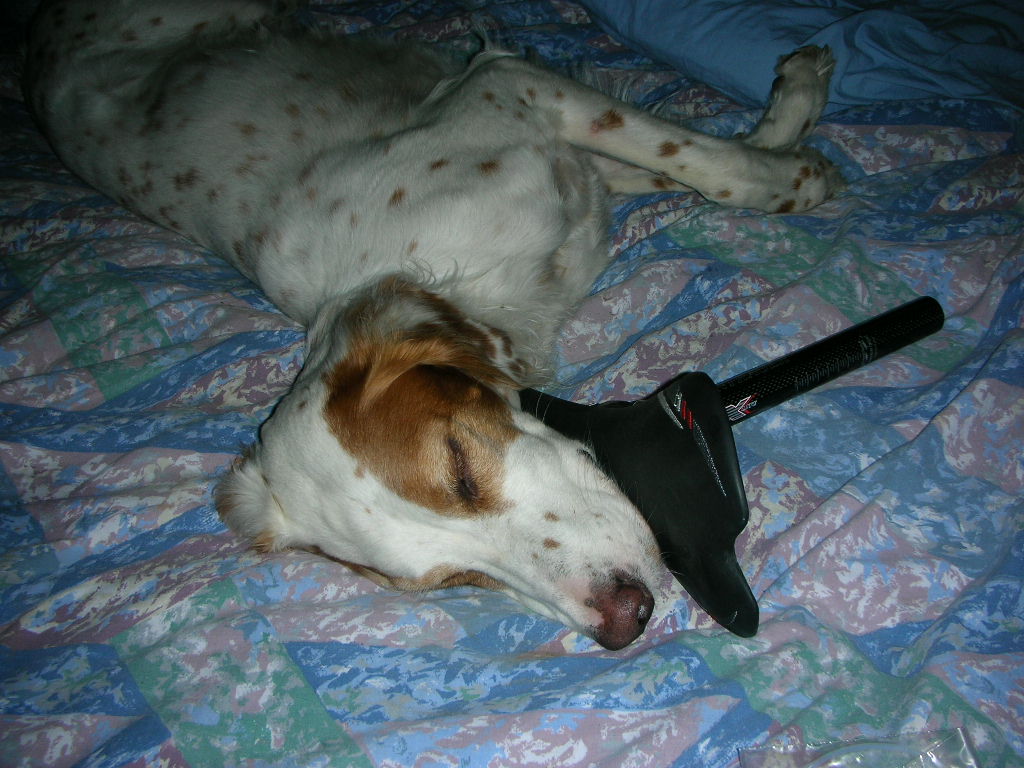 Right after the start.
Another artsy photo.