I'm a pretty okay cyclocross racer. I've won the Elite Nationals twice, the Pro Nationals twice, plus Masters a few times. That being said, I don't feel much like a cyclocross racer. And it is a little hard figuring out what to do about it.
I hadn't raced cross for two years until last weekend. And last weekend was pretty much a bust. I didn't have good luck, but I've done well at races with horrible luck. You can make your own luck sometimes racing bikes. Starting at the back of the field in a cross race usually only invites bad luck.
I know I have to pay my dues in cross. There is no free ride. But now that cross is so popular, even regional races have over 50 guys in them and I'll be lining up DFL each race until I get a USAC ranking that gives me an okay start position. And that is going to take a few weekends.
I have no patience for it. It is bad enough getting smeared by the best riders in the country. It is going to be hard getting beat by a bunch of guys that aren't normally on my radar screen. But, I understand the situation.
The real problem is if I'm really ready to race cross at a level I'll be happy with. I think I've done an alright job getting back to race fitness on the road and MTB. But cyclocross takes a different skill set. And some of those skills are a stretch for me right now.
Specifically, dismounting to run up steep pitches or stairs is difficult. Plus, lifting my bike with my right arm isn't so good either. Long runs would be close to impossible. And I'm not so sure, no matter what I do the next couple months, I'll get better enough at those things to be competitive. At least competitive at a level I'll be happy with.
Yesterday, I was repairing the doors of my house in Central Topeka. It deserves a post on its own. Some guy threw a brick through a window and had been "living" there. He stole all the heater covers and door knobs for recycling dollars.
Anyway, I was making sure the garage was secure, climbed a 6 foot fence to check. When I jumped off the fence, my right knee, good leg, hurt instantly at the patella tendon. This morning it aches still. I guess I can't be jumping off fences anymore. At least until I'm trained for it.
This is just another thing that might or might not be a factor. There are a bunch of good cross races in the Midwest the next month or so. I guess I'll just play it by ear and see how things pan out.
That isn't how I normally do things, but I'm sort of in new territory here, so it is going to be a learning process.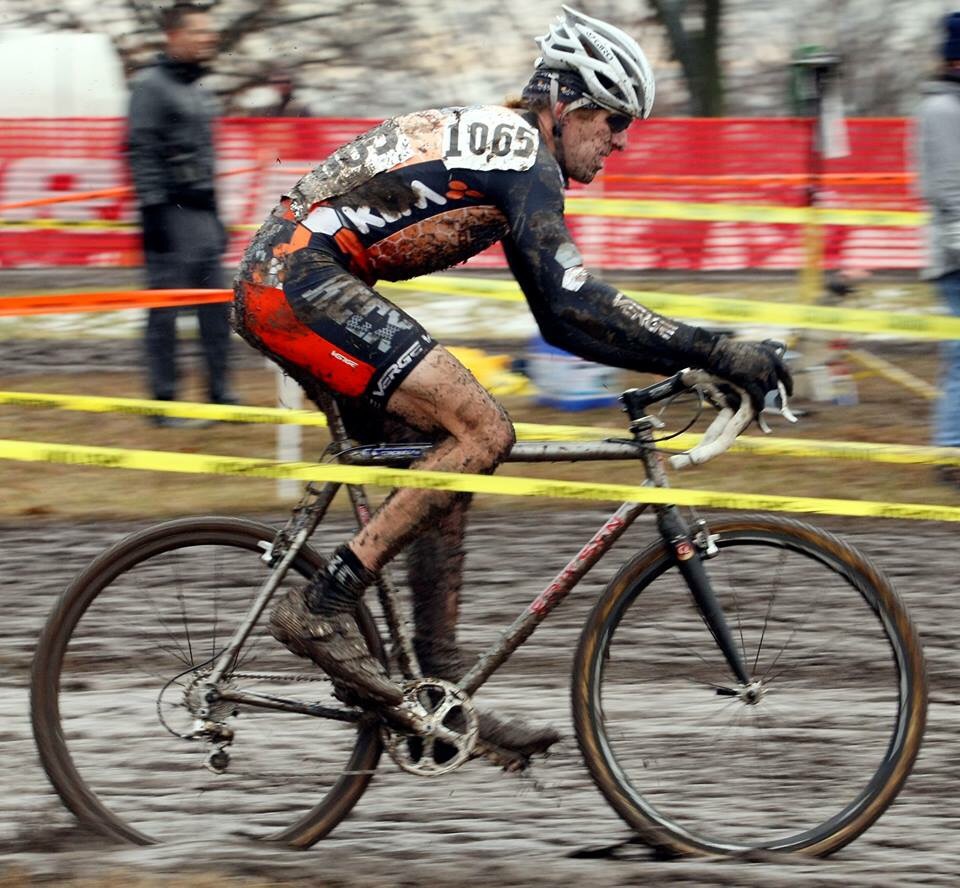 Back when running, and riding in mud didn't worry me.