I have gone through a ton of pumps in my lifetime. And each and everyone initially seems like it is "the pump", then it just becomes another one that is eventually going to fail me at a very inopportune time. And anytime is inopportune when you need to pump up your tires.
I'm talking mainly about floor pumps. I really don't put too much emphasis on hand pumps any more. I'd have to just state categorically that there isn't a good hand pump available nowadays. Silca hand pumps were cheap plastic, but worked great. When I rode for Schwinn, our frame pumps were painted the same as our bikes. That was pretty cool. But, since then, I have never had an adequate frame pump.
I think anyone my age started their career with an orange Silica floor pump. These were the pumps of choice for years. They were serviceable, with replacement leather washers readily available, plus replacement rubber washer for the pump head too. They were pretty bomb proof.
The pressure gauge never seemed to fail and with the availability of the two parts that wore out, the pumps would last forever.
But, the industry started coming up with newer, "better" pumps. Pumps that were dual action, putting air in on the downstroke and upstroke. Huge volume pumps. Ones that would take 5 strokes to fill a tire. But these pumps, all of them, never aged appropriately. They would wear out so quickly, that you soon forgot how well they initially worked.
I went through a huge amount of Blackburn pumps. I had a slew of them, think I won them or something, but they were substantial and seemed like they were going to be great. But no, they failed big time. I actually saved all of them and have been meaning to send them back to Blackburn and say that they should be ashamed to have produced such a product. One that woos the consumer with beauty and function, only to fail dismally.
When I was riding for Specialized, I had a bunch of their floor pumps. They worked adequately, but eventually their feet would break off. I think they were made of the same aluminum as their frames were and they were too brittle to last, just like their frames.
Recently, I had a nice Park pump. It was holding up great and the chuck would grab ahold of just about any valve stem, no matter how short. But alas, right when I need it the most, the night before Berryman, it sprung a leak.
Bill Woodul was a pump snob. He was a snob concerning a lot of things. He used to search for old floor pumps out of Rolls Royces. They came in the trunk and were beautiful. I'm not sure if they worked very well, but they looked cooler than shit. I think they were dual action too, taking 9 or so pumps to get to 115 psi.
I don't really throw away my old floor pumps. I'm not sure why that is. I think I have the intention of fixing them, but very rarely do that anymore. I'm not even sure if these pumps have parts that are replaceable. Most don't I'd assume.
I have never had the opportunity to use the new Silca $$$$ pump. Josh Poertner, previously of Zipp, bought the rights to Silca and produced a Rolls Royce type of pump. Here's a link to that story. Maybe it is the one?
So the quest for the elusive perfect floor pump continues. But, it isn't that active. Unless I happen to win the pump or happen upon it, I doubt that it will be successful. But that is the thing with quests, you don't have to ever complete them to enjoy the adventure.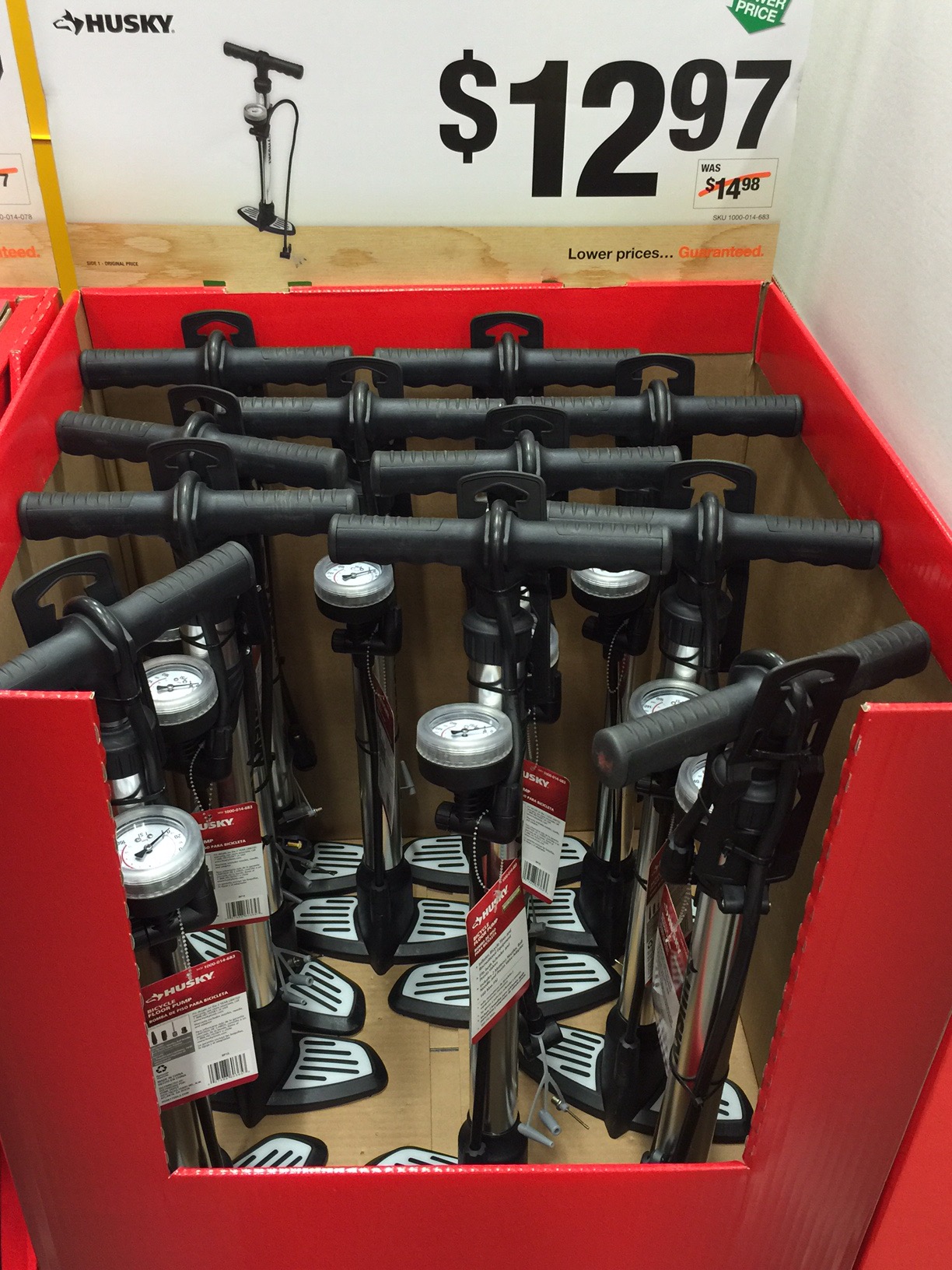 Home Depot pumps today.