Okay, made it to Austin. Just in time, around 3:30, to barely miss the gridlock traffic. I got dressed pretty quickly and went for a ride. It is amazing how much better it feels just to not have something on your legs when you're riding. Especially over your knees. It was in the lower 60's, which felt balmy.
Anyway, I just got back with enough light to take Bromont for a couple mile run. Even though the Friday traffic is about everywhere, Ann's neighborhood is relatively safe. People had already turned on most of their Christmas lights. I've never been to Austin before Christmas and was amazed how many people light up their yards. I'll take some photos he next couple days of the best ones. They have a bigger selection of lights here than I've seen elsewhere.
Ann and I went out to dinner at an Italian place on Barton Springs Rd. called Romero's. It was funky Austin dinning for sure. Good food, interesting ambiance. They had live music, which is everywhere here, but it was a group of 3 old guys, by old I mean maybe upper 60's, and they were playing a pretty wide variety of music. All over the place from the Beatles, Led Zeplin, to the Bangles. Fun.
I ate too much last night. I'm one of those people that can't stand to leave anything on my plate. No matter how full I am, I'll always a member of the clean plate club. I don't overeat very often. I know why because it makes you feel so rotten. Plus, I had two huge glasses of cheapish red wine. They nearly used a water glass for wine glasses. I have a mild hangover this morning.
Maybe it's because of only sleep 4 hours and then driving 10, I don't know, but I'm in a fog this morning. I even got up and took a shower first thing, which I hardly ever do. I slept 9 hours hard last night and now feel like I'm way short of time for the cross race at 1:30. I still have to put my race wheels on my bike and switch the pedals back from my road pedals. Okay, I'd better get going.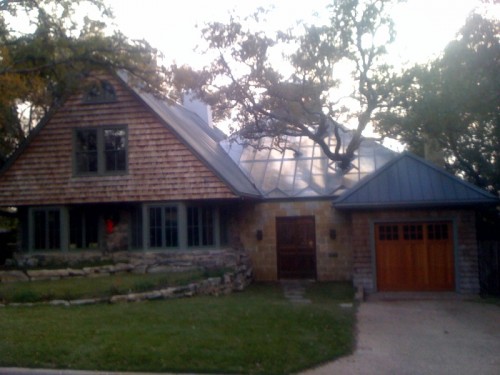 I've been watching this house being built for the last year. I guess it is done now. I like the way they have enclosed a tree inside their living space.