After watching Trebon ride around in the mud on Saturday, via the internet, I decided I should either get in my van and drive out to Fort Collins to play or make my way over to Kansas City and do a local event. I couldn't get my ducks in a row quick enough to pack up and get to Colorado, so Kansas City it was.
One problem racing cyclo-x in the Midwest in October is it isn't really cyclo-x weather a lot of the time. Yesterday was a prime example. It was in the 80's and super windy. The course was out in the open, but meandered around, so the wind didn't play much of a factor in the riding, but it sure did with the ribbon lining the course. That stuff was all over. It eventually became an obstacle.
I won the race pretty handily. Local races are a great time to try out some new stuff or try to regain lost techniques. There were lots of u-turns and other tight corners that you could set up for in a lot of different ways, so it was a good course to experiment on.
My left leg has been jacked up since running in the sand last weekend, so I wasn't big on dismounting. There were two sets of barriers. Actually, 1 1/2 sets of barriers. There was a short set of 2 x 6 barriers on a slight uphill. Those were super easy to get over. By the start line there was a set of 2 x12 barriers that were a little harder to clear. I'm came to the conclusion that I can't get over 16 inch barriers efficiently. I have to slow down too much to make it, so it isn't worth it when it counts. But, like I said, I wasn't big on running, so I never dismounted the whole race.
My start was crummy. Super bad. I pulled my foot out on the first pedal stroke, then did it again a couple strokes later. So, I was buried. Luckily there was a death spiral type thing a couple hundred meteres into the race and I didn't slow down much for that, so got back into the lead quickly. It was pretty clean sailing after that. I felt pretty okay riding. Not great, but good.
There was quite a battle going on behind me for the first half of the race, with Adam Mill, KCCX, and Brian Jensen, TradeWind, were duking it out. But Brian had just put together a "new" Colnago cross bike and his chain kept coming off in the front, even though he'd just put on a fancy chain catcher. Eventually Brian got frustrated and Adam got the course more dialed in and the gap started growing. Adam is getting a ton better at this sport. I wouldn't be surprised if he won one of these races this fall.
I went into the pit and got a bottle after about half the race. I was already over a minute ahead and didn't see a reason I shouldn't. I probably should have just put a cage on my bike since I never shouldered my bike.
I still feel pretty good. Not sore at all. I guess I have no reason to be sore since all I did was ride my bike around on grass and dirt.
For some reason, I don't sleep much after cross races. Not always, but it seems to be starting to be the norm. That used to happen after MTB races. Especially early season, hard MTB races. Or World Cups. I miss hanging with Ned for that very reason. We were pretty much on the same sleep schedule no matter where we were in the World. And after races, neither of us slept much, so it worked out pretty well. So, last night I stayed up until 3 or so screwing with my bikes in the garage and listening to Pandora radio.
It looks like it might have rained a little last night, which is great. I'll probably have to nap this afternoon.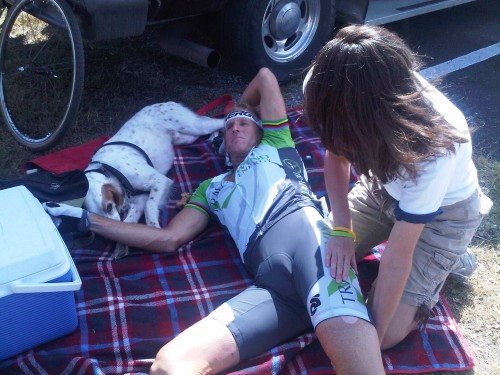 Gina Poertner doing a little active release on my leg about 5 minutes before the race.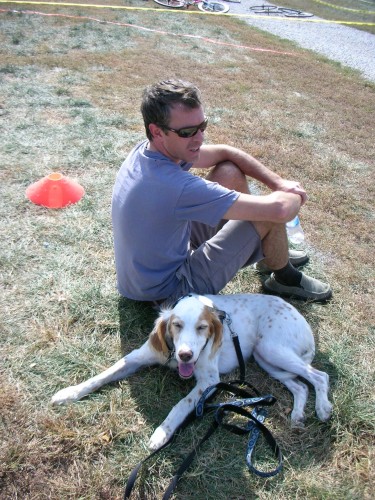 Bromont trying to stay cool, using the shade of Matt Gilhousen, our TradeWind Energy sponsor. Matt had already raced.