I don't have much more to say. If you had a chance to catch any of the USGP in Ft. Collins yesterday, you would have seen Ryan Trebon annihilate the best we have here in the United States. Jeremy Powers can obviously start about as fast as anyone in cross, but it didn't take Trebon too long to catch up to him and then dispose of him. I was watching it on CyclingDirt.com. Click on the link if you want to watch today's race live this afternoon. Race Results from yesterday.
Anyway, I was looking around and found the power downloads of Ryan's power output at the Madison Cup race and Cross Vegas. I posted them below.( Here's the link to Garmin.) I didn't think it was humanly possible to be producing those numbers, especially in a cyclocross race. I have no idea what he is using for measuring his power, but something is amiss. Maybe he's using a random number generator instead of a SRM? But, if the numbers from Madison are even close to correct, then he is focusing on the wrong aspect of this sport and should be winning classics and the like in Europe.
Below are some examples of high wattage output. "Experts" say you are a World Class rider if you can hold close to 6 watts per kilogram for 20 minutes. Ryan Trebon is a pretty big guy and he was doing nearly that for a full hour during a cyclo-x race. Like I said, if his average wattage in Madison of 472 watts is not just a made up number, then he is wearing the wrong jersey now and should be getting paid to race bikes by a Pro Tour Team.
Power from USGP in Madison (Click twice to enlarge.)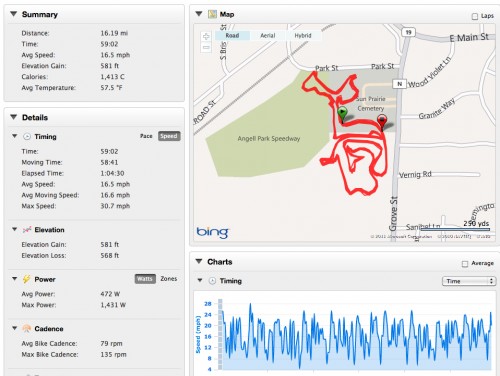 Power from CrossVegas

In 1975, Eddy Merckx did an hour ergometer test. Ed Burke reported he did an 455 watts average. That was pedaling continuously, not coasting around trees, etc.