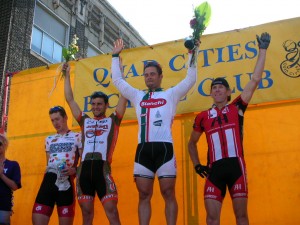 It seems like the Memorial Weekend was short because of no road race on Friday nite. Saturday was Muscatine. It is a mile long with a long gradual climb and descent. It was the first hot day of the season for just about everyone there. And it was only in the mid 80's. Guezz, wait a couple more weeks. I think that was the main reason that the race seemed so slow, but relatively hard for the speed. I was pitiful, but in comparison to the rest of the field, wasn't too bad. But, it came down to a field sprint. I jacked it up and had to come from way back the last 300 meters up the hill. I got to the right hand U-turn it way too big a gear and slightly out of control. Dove the corner into 3rd place and proceeded to slug the gear to the line to finish 5th. I probably could of cut the apex and chopped Alex Boyd and Cole House and finished third, but I already felt a little bad about chopping them already once 50 meters before.
Rock Island is Monday and a tight 8 corner race on a .75 mile course. It was pretty windy. The wind swirls because it is in a downtown area. The race was weird. Kind of like the day before. Seemed like no one had the energy to go after the gap was established. I thought for sure a group get away, but it came down to everyone being together with 8 to go.
That is when the silliness began. Three teams tried to start their leadouts, but never started. ABD, Grand Performance and Texas Road House all had the same plan. I'm not sure what the plan was for any of them, but no one wanted to take control and put the effort in. So, something like 25 guys are mulling around the front of a 8 corner criterium and only going 27mph. Needless to say, it was kind of stressful for everyone involved.
So, finally on the last lap, Texas Road House did a 800 meter leadout that got all jacked up. I was 20 or so back and got myself into a pretty good positive with 1/2 a lap to go. I thought I'd hooked up with my team mate Derek Georke at the perfect place. We got our signals crossed abit. By the time I figured out he wasn't going to do what I had anticipated, the sprint was over. I came around the last two corners in 3rd and finished 3rd. You have to be leading there. Derick finish 4th. Pretty embarrassing for me having two guys in the top 5 and not win. But, it could of been worse. You never know how those things are going to turn out.
Bicycle racing is so strange. If everything went perfect, I could of won both the last two races and I'm riding like shit. Eric Marcotte did win the last two races. He might be riding great. He might be riding horrible. He seems to be going OK judging by his Snake Alley finish. Anyway, my point is, in this sport, the strongest guy doesn't always win. It's an organism of its own. So many different variables in such a short period, at the end of the race, make it frustrating and exciting at the same time. That is where the knowledge kicks in. Trying to use past experiences to rule out things that will destroy your chances. But, it doesn't always work. Kind of fun. Really.