Okay, I'm out riding and saw the comments on my phone and have to believe that some of you guys researched this enough to confirm it isn't George that posted this, so this post is complete bullshit.
*Okay, another update now.  I guess it is true.  So weird.  So, disregard the above paragraph.
I saw this Facebook post by George Hincapie that says he had an encounter with a motorist on Paris Mountain and the guy stopped and pulled a gun and him and his 8 year old son.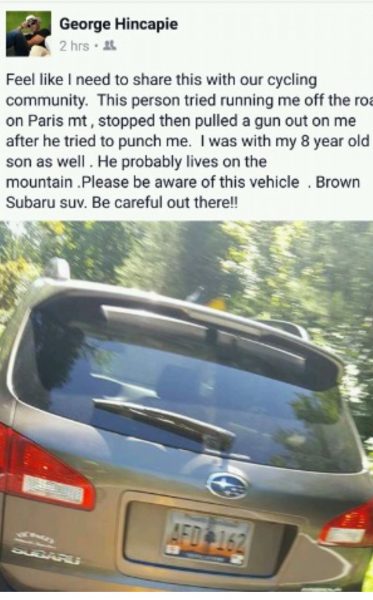 I'm not sure what to think about this.  Obviously, my initial impression like everyone else, that it is horrific.  But, there must be something else going on here.  His reaction seems screwy.
If this happened to me, in the exact same circumstances, me, out riding with my 8 year old son, I would have immediately dialed 911 and had a police officer out there as soon as possible. He was with his child.  How did he know the guy wouldn't come back and do more than threaten him.   The guy had already tried to assault him.  But, it doesn't seem like George did this.
Instead he posted a photo on Facebook, warning "his" cycling community to be careful incase they run into  this guy.
Plus, the photo has the license plate number of the car the guy was driving.  Do you think he wants one of his Facebook friends to help out in this matter, whatever that might be?
I can't think of a reason in the world that George wouldn't have called the police unless something else is going on.  Well, I can.  Maybe he just wants to take matters into his own hands.  Or the hands of his posse or something.  If he wanted to do it himself, he surely wouldn't have posted the picture on Facebook.
Any other ideas?