This is a clip from Facebook on a post, from a couple days ago on my blog post about the chart of some payments Lance made to Dr. Ferrari for a doping program.   I was surprised that James, who I have no idea who he is,  seems to be sort of pissed or more accurately, condemning, about the subject matter.
He seems to think that I have any motive writing my website other than jotting down some of my thoughts .  And I did think it was pretty interesting about the financial matters and exchanges in the doping process.   I don't know why James thought that this chart was somehow negative.  Some of the comments from the Facebook comment section on the post got kind of pointed, but that wasn't my doing.
Anyway, I did an interview with Chris Case from Velo a couple weeks ago.  I was mildly surprised about a few of the questions he asked.  He asked about whether I worried that some of the younger riders in the sport, that don't know me personally, might think I'm sort of a jerk about calling people out.   He didn't word it like that, but that was his question.
I told him that sometimes I'm pretty blunt and pretty much state whatever is on my mind.  And I realize that when anyone, me included, introduces a polarizing subject, like doping in cycling, religion, hand guns, any subject people have their own, set, convictions, then it is going to draw a line in the sand.
But, that line isn't always there.  I have a few lines that I think are permanent, but I could probably be convinced that my stance is off if there was enough compelling evidence or information.
I do post a fair amount about doping in cycling.  But, not nearly as much as most people think.  I just checked and I've posted here 2517 times.  Man, that seems like a lot.  And I very much doubt that one of ten of those posts has anything to do with doping.  So, I'd guess 10% of my posts, which might be off to the high side by a ways, are doping related.
Most, more than 70%, guess once again, of my posts, have something to do with cycling.  That is what I do most.  And doping is a very relevant subject in cycling.  It has affected the sport more than any other one thing the last two decades.  I would love to be able to just comment about the great aspects of our sport.  I think I do that too.   But, the doping stuff is there, always, trying to be spun a million different ways by people with agendas.  People that have a vested interest in the issue silently disappearing.
Let's look at Vino and the Astana team issues recently.  Two of his Pro Tour riders have turned up positive.  One helped Nibali win  the Tour de France this year.  Then three riders from the Astana Continental team are suspended.  And here is Alexandre Vinokourov, last Olympic Champion, past doper, and czar of Astana saying that –
"People have to understand that they (the Continental team) has nothing to do with this team (the Astana WorldTour team). The only thing we have in common is the jersey and the name."
NOTHING.  He says this and then somehow, since the teams are so separate, suspends the whole Astana Continental team.  Man, that is pretty separate, huh.  I wonder if I could have just suspended that team if I wanted to?  Maybe I can suspend the license of the Astana WorldTour team since I am virtually positive that I have "nothing to do" with it.
Someone has to call these goofballs out.  I don't think it's my "job" to do it, it just rubs me the wrong way enough, and is entertaining enough for me, to be involved in a small way.
I told Chris at Velo that I am surprised how people tend to focus on the doping posts and disregard posts that I think should have more interactions.  Like the homeless, world hunger, etc.  But, those aren't polarizing subjects.  Everyone agrees on those subjects.  He agreed somewhat.  He told me that on the Velonews website, they had to take down the comment sections on some posts because it just got into the same old broken record happening on each and every doping post.
Anyway, my answer to James is,  no, I have no desire or thought about "staying relevant", whatever that means, through this website.  I just write what is in my head.  It's my website and pretty much how it has to be, since I know no other way.  And "put it to bed already"?  I just wish, but doping in the sport seems to be never ending.
PS To appease James a little, I'd like to say that the most hits to my website ever, superseding Vaughter's Outs Danielson, was the announcement of Steve Hed's passing.   It was so popular because Steve Hed was so important and touched so many people's lives, in a very, very positive way.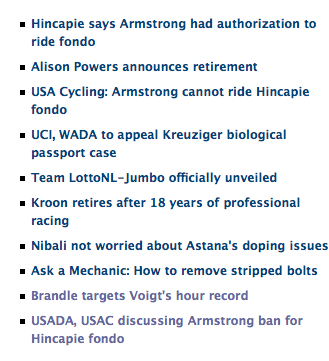 This is a clip from the Velonews website a few weeks ago.  Obviously, since Velonews is a specific publication about the sport of cycling, and 50% of their stories that day, have something to do with doping, it is a very relevant topic.