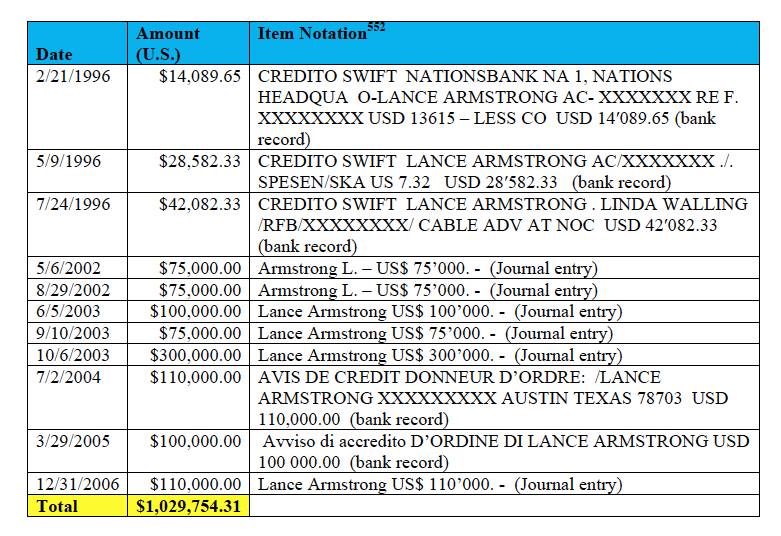 I saw this at Facebook on Besty Andreu's page last week.   I guess it is from USADA's report, page 107, that shows some or all of the payment's that were paid to Dr. Ferrari from Lance.  Or more accurately, according to Besty, Lance's mom.   I looked a little at the USADA Report and went to page 107, but it sort of creeped me out reading about how Kevin Livingston and Christian Vande Velde "signed" up to work for Ferrari.   It's too early in the morning for that kind of stuff.
Anyway, I had never really thought about how much it might cost to have a systematic doping program, individually and custom made for an athlete.  It really didn't seem like a million dollars was so much.  I very much doubt that this $1,029,754.31 was all the money paid.  There are a lot of years missing there, so the amount, realistically, has to be at least double that amount.  Plus, I'd assume, that there would be other doctors involved, so they would need compensation.
But whatever the real number, you would have to agree that it was a pretty great investment, financially.  I have no idea how much money Lance has made from being Lance, but the number has been estimated at a number of places on the internet to be  around $125 million.  So if that number is close to accurate, and my guess that he paid at least 2 million to doctors, then it was a 60 fold return.  Pretty great investment, really.  These numbers could all be off by a lot, but whatever the real numbers, it was still a deal.
When I saw this, I asked my friend Vincent how much he thought that Lance paid and he guessed 25 million.  I kind of laughed, but when you really think about it, paying a doctor a 20% fee for having results like Lance did doesn't seem that outlandish.  There are lots of other occupations where services take a cut like that.  It would be a deal compared to what some attorneys  take for representing someone.
Anyway, I think the whole thing is really interesting.  Tyler Hamiliton only paid Dr. Fuentes $50,000 for three years of doping, so that would be a really great deal compared to what Lance paid.  I wonder how much Dr. Ferrari charged Christian, Kevin and George?