I've only had the "pleasure" to write the name Maxim Iglinskiy down on one occasion.  And it wasn't when he won Liège-Bastogne-Liège in 2012.  It was in a post I wrote back in May of 2012 about Bradley Wiggins training in Tenerife and how the Astana team director, Alexander Vinokourov  gushed praise upon Iglinskiy for finally getting his shit together, at age 31, and having his breakthrough moment.    I implied that having two high altitude training camps in Tenerife, before the classics, seemed more than just a little screwy.
Now the Iglinskiy brothers, Maxim and Valentin, both who have been riding for the MPCC clean team, Astana, have both provisionally tested positive for EPO usage.  Man, what a surprise?
This whole things stinks.  Maxim helped his team mate, Vincenzo Nibali secure his win in the 2014 Tour de France.  Neal Rogers wrote a great piece at Velonews.com, explaining a lot of the past history of Maxim and Astana and the implications for the Astana Team, since they are members of MPCC.
These guys have been riding for Astana for pretty much their whole careers.  Winning races and getting paid a ton.  They can now sit back and enjoy the fruits of their "labors".  Those labors, that once again, robbed honest sportsmen of their true victories.
Isn't it just about time that the sanctions step up to the crimes.  I never want to see either of these guys racing bikes again.   For that matter, I don't want to see anyone in an Astana jersey racing bikes again.
In my humble opinion, Vinokourov's win at the London OIympic Games made a huge joke of the sport of cycling.  It might be the low point of the sport, in the current age of anti-doping efforts.  Worse than Lance winning 7 Tours?  Probably.  Yes,   The Olympic Games are special and the gold medals need to be worn by the pure, worn by true sportsman.  Nothing these guys do fall into that category.
The beat just keeps going on.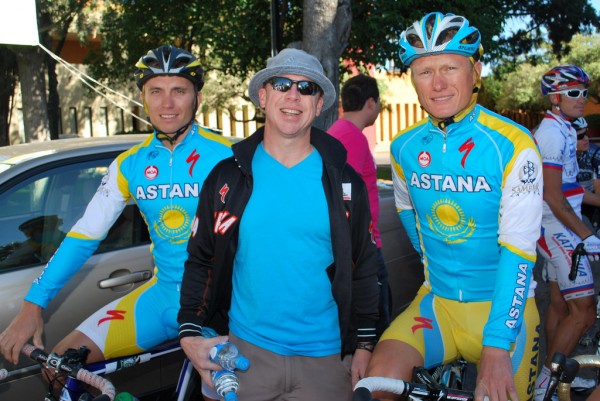 Here's a nice photo to be charished, from Robb Nixon's fickr account, of Robb, Maxim and Vino hanging together at a start $$$ race in Chihuahua, Mexico.