I just found out a little while ago that a long time friend, and a guy I've been riding bikes with, since I as a kid, was hit by a car and killed today. Cal Melick was out riding by Long Star Lake, near Lawrence, when a car was passing another car, and hit Cal head on. Man, super bad luck and tragic.
Cal was on the first team I rode on, a team that was organized by Gene Wee from the Kansas University Student Union. He quit racing a long while ago, but always kept riding. He led weekly rides of the Lawrence Bicycle Club. He also worked here in Topeka at Washburn University, at the library. He was a super nice guy, soft-spoken, and a real cyclist.
Below is a picture of our team, which was sponsored by Blue Hills Bike Shop in Kansas City. Cal is 2nd from the left on the 2nd row. Right below Cal, kneeling, is Jim May, who was also killed, hit by a motorcycle during a training race in Wichita. Man, that is over 10% of our team.
I sure hope Jim and Cal are together now, where ever that is. Jim was always super funny, so I hope that he and Cal can share a few laughs, maybe with Robin, while riding into eternity.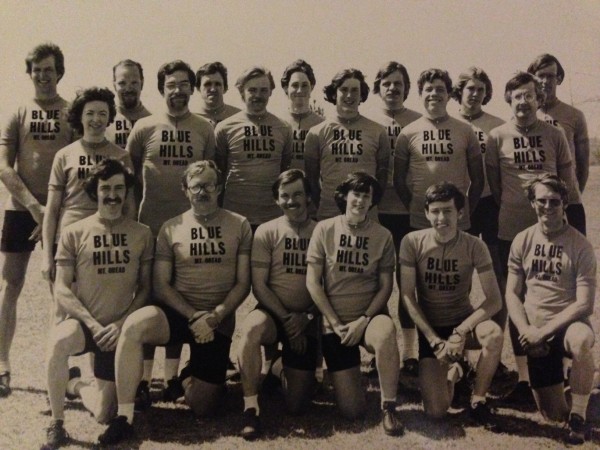 Video of where the accident occurred.