It is no secret that Snake Alley Criterium is one of my favorite races of the year. Of all time. It takes a lot of power, plus it takes skill. Yesterday I think I had a lot of skill, but not much power.
The course is only .8 miles, with one steep, brick climb and then a 3 corner technical-ish descent. It wasn't very windy, just enough, and it was a little warm, lower 80's I'd guess. I rode 35 miles before the start. I thought, and I guess, I did do enough to properly go fast from the gun. But, I was a notch off. I'm not sure if it was because of stomach issues, or it was just what I had for the day, but I was missing just enough to not be competitive for the full distance.
I got a call-up, which is key. Of course the race started crazy fast, because that is the only way it can go. 100 meters, right corner and straight up a 45 second climb. I got into "the snake" about 5 riders back. Chad Hartley, Athlete Octane, was leading and drilled it up the hill the first lap. His team mate, Daniel Holloway, was 3rd and they must of had a plan because Holloway just sat up and nearly pulled his brakes. Chad Burdzilauskas, Texas Roadhouse, was ahead of Holloway and bridged up to Hartley on the climb. I got by Holloway about 1/2 way up and went over the top 5 bikes lengths back. I tucked and drilled the descent and made it up to the leading two by the bottom.
Nearly immediately Daniel Holloway came blowing by us. I got behind him and I think Chad B. got on too. Holloway pulled a whole lap and I came by on the climb. It was only the two of us then, with Chad getting dropped. I didn't think it was such a good move, but Holloway was going so well on the flats and I knew he had a bunch of team mates at the front behind, I decided to just keep going. I heard we were 10 seconds clear, but soon the faster guys got to the front of the field and we were reabsorbed after 4 laps or so.
This is where it started going south for me. I got shuffled a little too far back. Once that happens in this race, it changes a ton. Instead of having momentum at the bottom of the snake, it turns into a speed loss. You do a stutter coast when you first hit the bricks and drop your speed a few miles per hour. This loss of speed has to be made up somewhere else on the course. Anyway, I had a bad 5 or 6 laps. I was just trying to survive as 8 guys rode off the front. Pretty much the whole Hincapie team, plus Holloway, Paul Martin, Cole House, pretty much all the contenders. I was descending pretty good, so I used the last two switchbacks up the climbs as a rest, opened a big gap over the top and then just tucked and bridged back up through the corners. I was hoping this was going to get me back up to speed.
And it did, sort of. With 4 laps to go I got back up to the front of the group that was riding for 9th. But, I couldn't see anyone ahead of us, even heading up Snake Alley, so knew that was it. I sort of lost motivation, knowing the race was over. I kept at it though. I made a few mistakes the last couple laps. One, was not riding hard down the descent with two to go. Chad Hartley put in a good move on the descent and I should have just went with him. I was right there, but too worried about recovering to commit. Starting the last time up the climb, I got stuck behind a totally blown rider and 3 guys rolled off the front of our group. I just coasted down the hill and did a sprint with 5 or 6 guys. I ended up 18th, which was about what I deserved.
I was riding better than my result, but for some reason, am missing some power and some recovery. Maybe it is the stomach issue. Normally with stomach bugs, I lose all power. Not so with this. I was super dizzy at the finish. That isn't normal for me. I feel okay this morning, not sore, stomach upset, or anything, so maybe the stomach deal is over.
Daniel Holloway went on to win, surprise. He was with a Hincapie kid, but he dropped his chain with two laps to go and had to run the hill. He got caught by a team mate and they finished 2nd and 3rd.
We're doing the Melon City race this afternoon in Muscatine. Bill and I drove up to Davenport and are staying with Jeff Bradley. He cooked us some steaks last night. Tom Schuler is staying here too. He is promoting the memorial day race on Monday. It is just down the hill from Jeff's.
Jeff said the race on Sunday might be as hard as Snake Alley. I hope to have some better legs by then. I'm looking forward to a hard race with good legs. Crossing my fingers.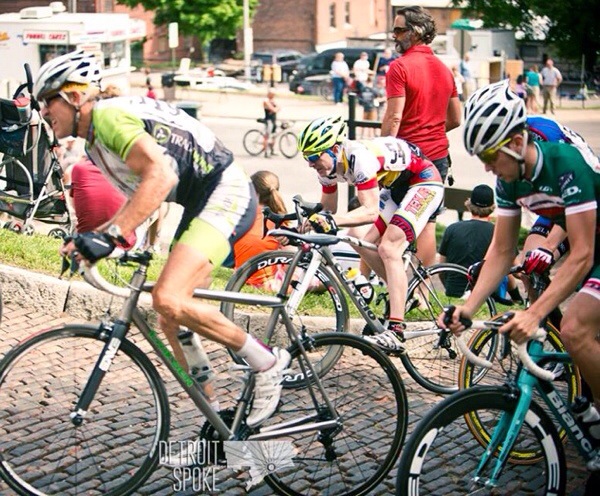 Climbing.