Sort of doing a do-over of last weekend. Saturday the Springfling Criterium in Lawrence and then the final race of the Perry Road Races. I was really happy with the way the races and riding went last weekend. It was near perfect training. I sort of looked around for a bigger race this weekend, but decided to stay home. The weather was supposed to be great, but today they really downgraded the forecast. It was going to be in the 70's both days and now it is going to be 70 on Saturday, but maybe some rain in the afternoon. The criterium is at 4 pm.
Then Sunday the high is supposed to be 40 with rain/sleet in the afternoon. That kind of puts a bad spin on getting big miles riding to and from the races both days. I had counted on getting at least 80 miles each day, but now am a little worried about that.
I am going to look for something better next weekend. I was sort of planning on doing the 2nd race of the US Cup, in LA, the MTB series, but didn't get my shit together and the temperatures were supposed to be in the 90's. I'm not racing another MTB race that hot at this time of the season. I don't know what the deal is, but I don't do well with that as of now. I think I was maybe lucky a couple weeks ago with all the flats. It might of destroyed me if I'd done the whole race at pace.
Catherine called yesterday and said she was coming back to Topeka for the weekend. She was supposed to come back next weekend, but I guess something came up at work, so she moved it up a week. That will be nice. I had to mess with her cross bike to make it road raceable. I put a 53 ring on it, a front derailleur, rebuilt her bottom bracket and rear hub and checked it over. It weights just a bit over 16 lbs. with Reynolds 46 carbon wheels. Pretty nice. I'm not sure what she is planning on doing, racewise, but her bike is ready to race.
I only rode 30 miles yesterday. I'd hoped to ride twice that far, but got caught up with bike work and then ran out of time. Hopefully, the weather will hold, at least for today, and I'll get in a big mileage day today.
I'm more interested in tomorrow's race. I won last week, so if I ride well, I'll win the series overall, which would be nice. Today is another points race criterium. I think I'll just try to do some sprints. I need to work on that some. My shoulder I had surgery on is still weak, so I'm a little slower than normal. That isn't something I'm comfortable with. I hate to race bikes and know if it came down to a field sprint I'd not be in contention. Too many races end that way nowadays.
Okay, news from Europe, Trudi smashed her computer somehow. She was driving from Venice to Belgium, stopped at a hotel in France, and when she opened her computer, the screen was destroyed. She is super bummed. I'm trying to figure out a way to get her a computer. Maybe someone from another US team is flying over there soon and could take her a new one. I meant to look as if there is an Apple Store, that could do repairs, in Brussels. She is there another month, so that would be a long time to be "out of touch". If anyone out there has any ideas, feel free to let me know.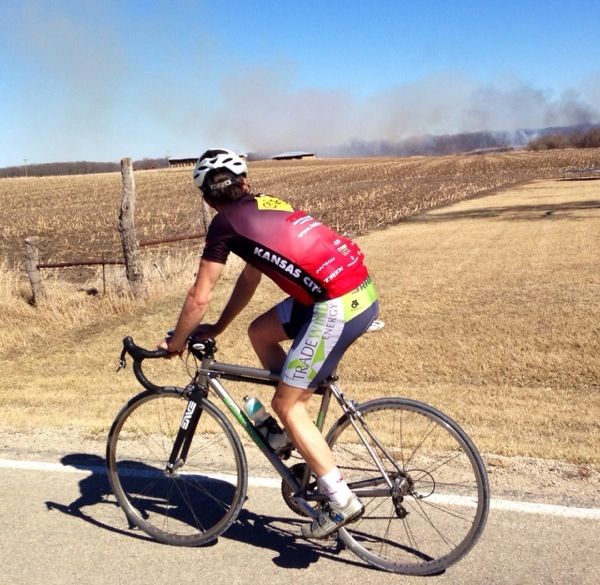 The pasture burning has truly started.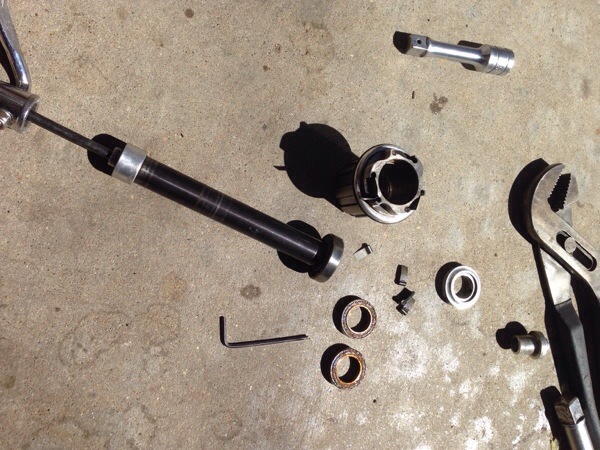 Catherine's Reynold's hub parts.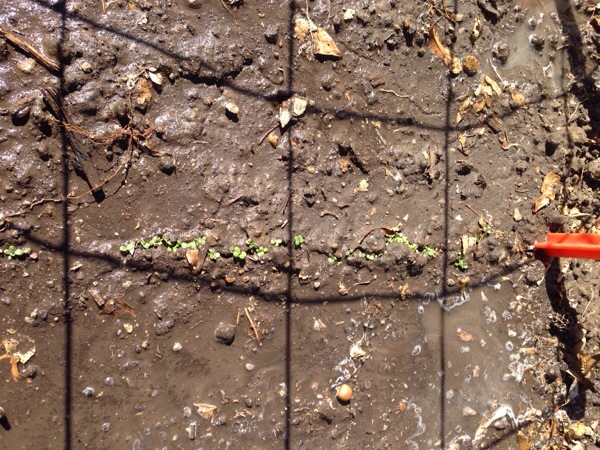 The garden is coming up. I'm not sure if this is lettuce or spinach.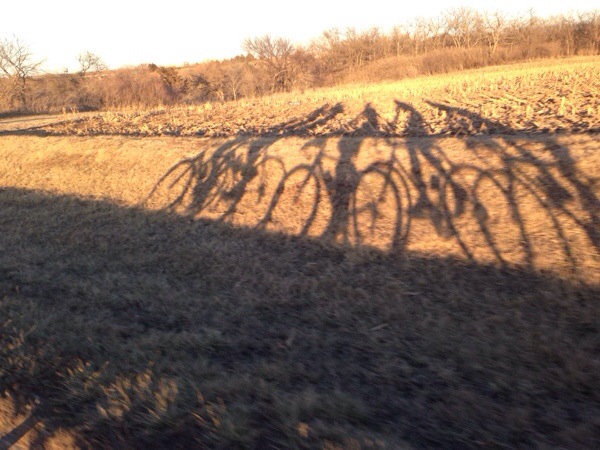 Shadows in the ditch on the club ride.