Winter officially came to Kansas. I know it's not officially here until next weekend, but it got cold and stayed pretty cold. There isn't any snow on the ground like the east coast, but it has been icing on and off.
I haven't been racing cross. I've got way too many issues going on right now. I'm not going to be sad to see 2013 behind me, health-wise. I figure that it just comes in waves and you have to just ride them out. I've never really been hurt too badly or too long, since I started racing, so I can't complain about it that much.
I've been riding when I can and then trying to do as much to catch up some with things I've put off all year. I'm either going slower or time has accelerated on me. My shoulder is just so-so. Physical, contortion jobs are challenging. I figure it is just real life physical therapy.
Yesterday, I changed the oil in my van. The diesel van takes 15 quarts of oil, plus a $25 filter, so it is over $100 to do an oil change. I only use synthetic oil. I change it religiously. I think that if you change your engine oil and transmission fluid regularly, an automobile can run a really long time. At least that is my experience.
After the oil change, I decided to do the front brakes. I'm been meaning to put on new rotors for a while. Plus, I needed to rotate the tires. All the parts of a diesel van are expensive too. Nearly $200 for the rotors and pads. The project went great until I tried to take the rear wheels off. They were pretty seized on. Alloy rims to steel. I had to use a two by four and a sledge hammer to knock them off from behind. I've never experienced that before. Not too extreme at least. I'm not sure what I would have done if I would have had to change a flat on the road. I put some brake caliper grease on the inside of the rim, hoping that would stop the corrosion. I have no idea if that will work or if it was the right product to use.
It seems like there are a lot of turkeys around this year. A couple days ago, I saw two flocks of turkeys that were bigger than any I've ever seen before. Maybe close to a hundred in each group. When I stopped to take a picture of the first one, many of the turkeys took to flight. I've seen turkeys fly some before, but these guys really could fly. A few of them ended up landing at the very top of some very tall trees. It looked so strange. They really have to work to fly.
We're going to ride today at 12:30. My winter mileage rule is 1 mile for every degree temperature, in fahrenheit. So, if it's 33, then ride 33 miles, 17 degrees, then 17 miles, so on. Then when you get those lucky, 50+ degree days, you get in a longer ride. It seems enough to stay fit throughout the winter. It's not a strict rule, just a rule of thumb.
We're going up North to Wisconsin to ski after Christmas. I haven't skied after Christmas for the last three years, training for Cross Nationals and Worlds. I'm hoping that putting in a bunch of hours skiing will make my shoulder stronger and more usable. I'm not exactly sure it will even work, I have been scared to try out the motion. I'm sure it will be fine.
Okay, that is about all I have today. Kind of bounced around, but that is how I think.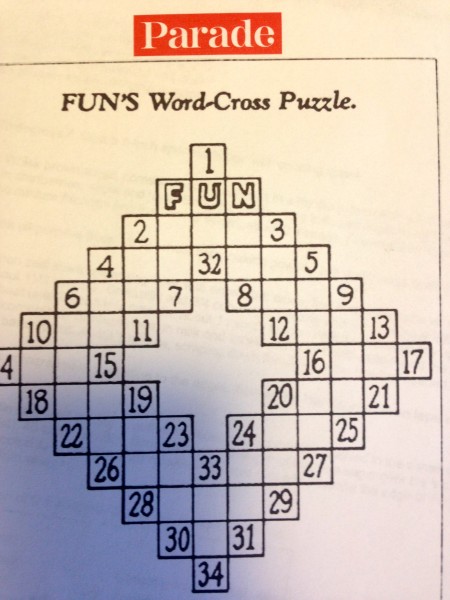 This week is the 100th anniversary for crossword puzzle. Here is a picture of the first one. If you want to download it and do it yourself, click here.