I was reading an article that said Chris Froome, current Tour de France champion, said that he wants to hear what Lance has to say about Lance's history. Chris says it would "put the story to bed".
I started thinking about it again and decided that if the price that "we" have to pay to hear the complete, unedited, story of the history of Lance and his cronies, is that his ban is suspended and he can compete again, then I think that it is a fair deal. Letting one guy compete to get the knowledge he holds seems like a very good trade.
I'm not for "putting the story to bed". I think it will show the magnitude of the past and current problems we face, thus help speed up the process of ridding the sport of the problem.
I know this sounds like a complete turnaround of what most would think that I would say. But I think the knowledge, and getting the knowledge in a timely manner, like now, is important enough to make an exception to my normal, harsh, personal opinion.
If Travis Tygart thinks Floyd helped him learn about the procedures the cyclist use to dope, then Lance would be a score. Lance is a pretty smart guy. At least smart enough to shed an enormous amount of light on the current practices of doping in cycling. I wonder if we would ever hear the whole truth if this happened?
If Lance did this real soon, we wouldn't have suffer through the upcoming Johan Bruyneel hearing. That would be a big plus. It's scheduled for next month, but I'm sure it will put off again.
Lance would have to come completely clean. Name names, contacts, processes, everything. He answers all questions. Lance doesn't seem like the type that would completely turn over and do this, so I think this all is just a pie-in-the-sky idea.
But, if Lance really wants to compete as badly as it seems he does, then maybe it would work. I think they should make him the offer and see how it plays out.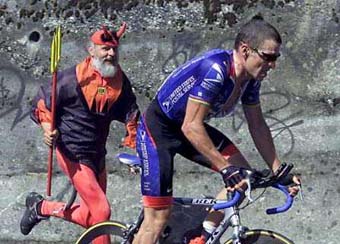 "And Ye Shall Know the Truth and the Truth Shall Make You Free"